Exhibition: Taro Izumi, Pan
---
From now on and until May 8th 2017, the Palais de Tokyo welcomes the installations of the Japanese artist Taro Izumi (born in 1976). This creator that can be qualified as singular creates his art works through game, accident and disruption. He likes to shake up the established order in our lives and businesses, betting on agitation. This way, his sculptures, his videos and his installations outwit our artistic and social habits with humour. To this end, he uses daily elements in his works, that he mixes, just like chairs, stools, cushions and tables. His works seem to be produced by malicious spirits, called "kamis" in the Shinto religion in Japan. These spirits worshiped by nature have a prankster role, sometimes even dangerous, in Japanese culture. This event is to be discovered just near the Green Hotels Paris, the Eiffel Trocadéro and the Gavarni.
Exhibition "Taro Izumi – Pan", from February 3rd to May 8th 2017.
Open every day, except on Tuesday, from noon to midnight.
Full rate: €12,40 / Concessions (18-25 years old): €9,40.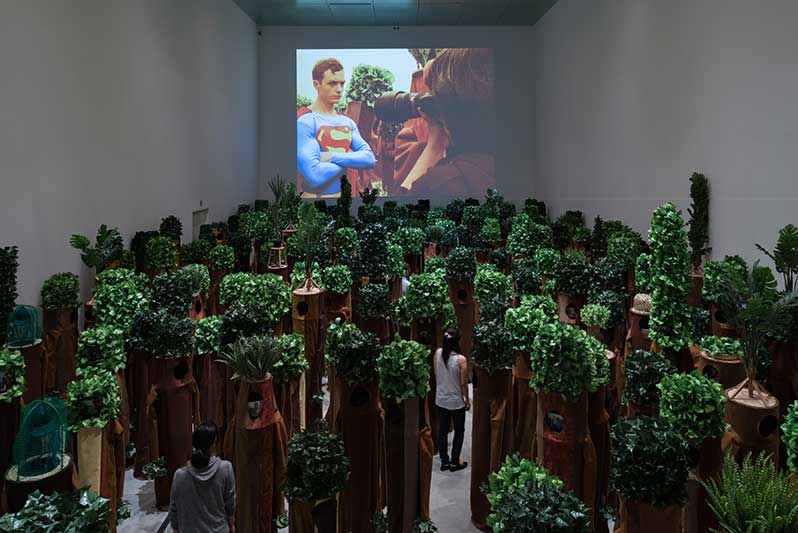 Taro Izumi, Candidate (Can not see the shadow of the rainbow) 2015. Video installation,
mix technique. View of the exhibition "In Our Time: Art in Post-industrial Japan"
21st Century Museum of Contemporary Art (Kanazawa, Japon).
Courtesy of the artist, Galerie GP&N Vallois (Paris), and Galerie Take Ninagawa. Photo © Keizo Kioku
Palais de Tokyo
13, avenue du Président Wilson
75116 Paris
France
Tel.: +33 (0)1 81 97 35 88
Metro: Iéna or Alma-Marceau (line 9).