Exhibition: Street Art, l'innovation au coeur d'un mouvement
---
The Espace Fondation EDF is hosting an exhibition dedicated to Street Art – from its origins to nowadays. This massive retrospective also presents the various conventions and practices of this artistic movement, which is constantly evolving – light painting, street mapping, anamorphosis, graffiti 2.0. This is the occasion to discover famous and unknown street artists such as Mark Jenkins, Patrick Suchet, JR and Rezine. In their own particular way, they all contributed to the evolution of the Street Art, using spray-paint cans, stencils or brushes, tracers, video projectors or QR codes to give birth to extraordinary hybrid masterpieces. This urban art, which is endlessly renewed, is now available on smartphones and tablet computers, so that everyone can enjoy it. A fascinating exhibition which retraces the evolution of this trendy discipline over the last 45 years.
"Street Art, l'innovation au coeur d'un mouvement" exhibition, from October 5th 2014 to March 1st 2015.
Open Tuesday-Sunday from noon to 7pm.
Free entrance.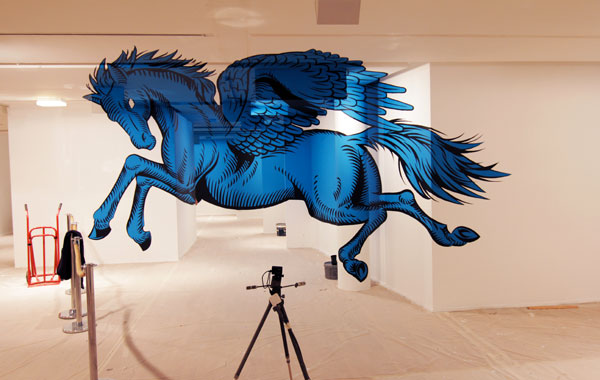 PEGASUS - by the TRULY collective for the exhibition - DR
Espace Fondation EDF (in French)
6, rue Récamier
75007 Paris
France
Tel: +33 (0)1 53 63 23 45
fondation-edf@edf.fr
Metro: Sèvres-Babylone (lines 10 and 12) or Saint-Sulpice (line 4).