Exhibition: The Jews Spoliation, a State Policy (1940-1944)
---
You only have a few days left to discover the Shoah Memorial exhibition devoted to Jews spoliation under Nazi Europe. You will find out how Jews were victims of illegal expropriations and of boycott campaigns against their companies, from 1933 onwards. The exhibition focuses on eight examples of properties that were impacted by these measures, in the region of Grenoble (Isère department), in France.
Exhibition: "The Jews Spoliation, a State Policy (1940-1944)", from January 30th to September 29th 2013.
Open every day except Saturday, from 10am to 6pm.
Late opening on Thursday until 10pm.
Museum and temporary exhibitions: free entrance.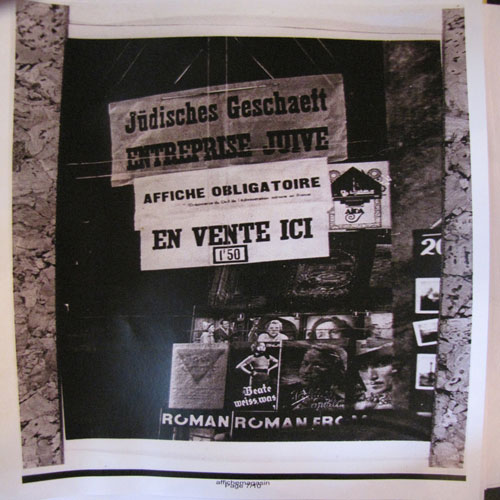 The Shoah Memorial / BHVP funds, Paris.
A store selling the bilingual posters to mark "Jew companies".
Mémorial de la Shoah
17, rue Geoffroy l'Asnier
75004 Paris
France
Tel: +33 (0)1 42 77 44 72
contact@memorialdelashoah.org
Metro: Saint-Paul, Hôtel-de-Ville (line 1), and Pont-Marie (line 7).