Exhibition: Soly Cissé – Les Mutants
---
The new exhibition of the Musée Dapper is announced as flamboyant! From March 24th to June 14th 2017, the museum exhibits a collection of works called "Les Mutants" ("The Mutants"), by the Senegalese artist Soly Cissé. These unique works of art express the artist's questions about the world, the injustices and inconsistencies that we live every day. Therefore, he demonstrates his political commitment for the development of Africa, slowed by socio-economic realities, and for its openness on the world. Graduated from the Fine Arts school of Dakar, this multiple-influence artist loves colourful paints, and often gets his inspiration from the appearance of items of "traditional" beliefs to create his own works. Enigmatic and original, this retrospective invites us both to contemplation and reflexion. It is to discover just a few-minute walk away from the Green Hotels Paris, the Eiffel Trocadéro and the Gavarni.
Exhibition "Soly Cissé – Les Mutants", from March 24th to June 14th 2017.
Open every day, except on Tuesday and Thursday, from 11a.m. to 7p.m.
Full rate: €6 / Reduced rate: €4 / Free for visitors under 26.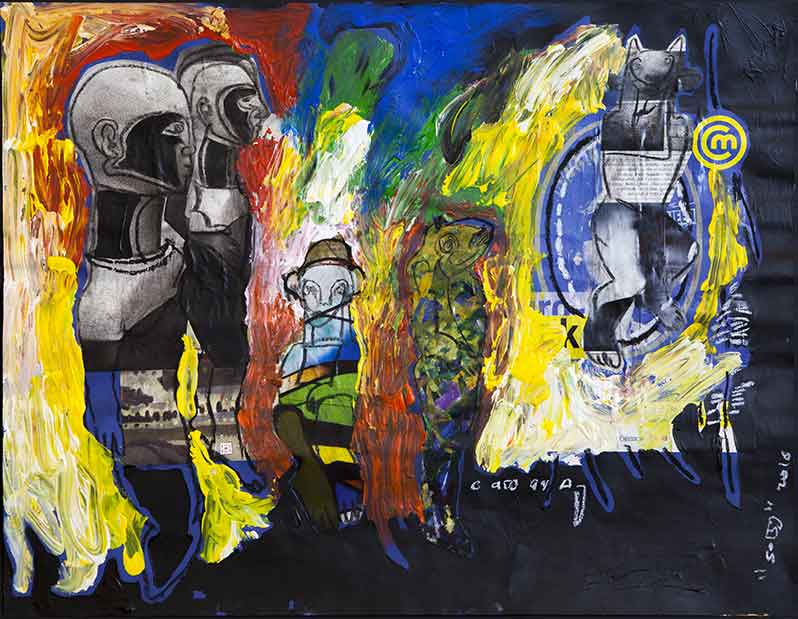 Soly Cissé
Les Initiés, 2015
Acrylic, pastel and Canson paper collage
65 x 60cm
Particular collection
© Archives Musée Dapper, photo by Aurélie Leveau
Musée Dapper
35 bis, rue Paul Valéry
75116 Paris
France
Tel.: +33 (0)1 45 00 91 75
Metro: Victor Hugo (line 2) or Kléber (line 6).