Exhibition: Porcelaine, chefs-d'œuvre de la collection Ise
---
From June 21st till September 4th, 2017, the musée Guimet welcomes "Porcelaine, chefs-d'œuvre de la collection Ise" (Porcelain, masterpieces of the Ise collection), an exhibition on the art of Chinese ceramics. This retrospective, which is held on the ground floor of the hotel d'Heidelbach, presents a wide selection of old Chinese ceramics of the Ise collection. The latter was lent to the museum by agro-industrial Hikonobu Ise who spent 30 years constituting it. Asian ceramics lovers can admire magnificent fine blue and white porcelain, in monochrome or in celadon, rare porcelain pieces dating from the 5th until the 19th century B.C. This event which is a proof of the evolution, the beauty and the precision of the Chinese ceramic art, is available just a few-minute walk away from the Green Hotels Paris, the Eiffel Trocadéro and the Gavarni.
Exhibition  "Porcelaine, chefs-d'œuvre de la collection Ise", from June 21st to September 4th, 2017.
Open every day from 10a.m. to 6p.m.
Closed on Tuesday.
Full rate: €9.50 / Concessions: €7.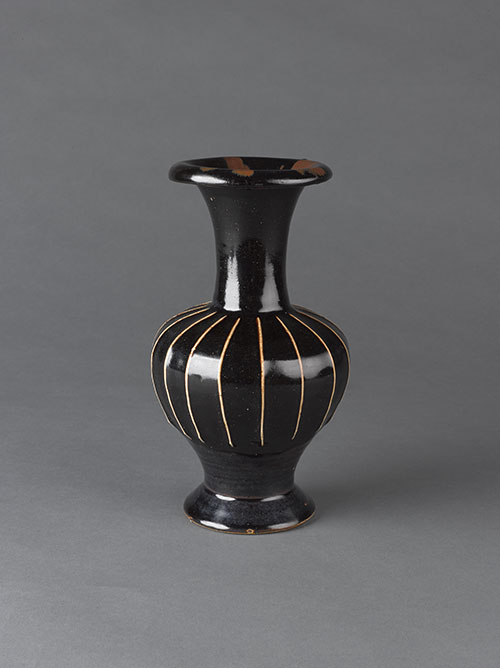 Long collar Vase, black glaze and relief ribs with white slip.
Line of Cizhou ovens. Jin dynasty (12th-13th centuries), H 22.8 cm, D. 13 cm max
© Ise Collection / Photo : Shigefumi Kato
Musée national des Arts asiatiques – Musée Guimet
6, place d'Iéna
75016 Paris
France
Tel: +33 (0)1 56 52 53 00
Metro: Iéna (line 9) and Pont de l'Alma (RER C).