Exhibition: Mathieu Pernot and Philippe Artières, The Photographs Asylum
---
The foundation "La Maison Rouge" presents an exhibition devoted to photography in a hospital environment. In 2010, historian Philippe Artières and photographer Mathieu Pernot discovered pictures from the 1930's until today, in the archives of Le Bon Sauveur psychiatric hospital, in the town of Picauville, in the Manche department (northwest of France). This retrospective is an opportunity to enter into a very peculiar world.
Exhibition: "Mathieu Pernot and Philippe Artières: The Photographs Asylum", from February 13th to May 11th 2014.
Open Wednesday - Sunday from 11am to 7pm.
Late opening on Thursday until 9pm.
Full rate: €8 / Concession: €5.5 (for the 13-18s and the over-65s) / Free for the under-13s.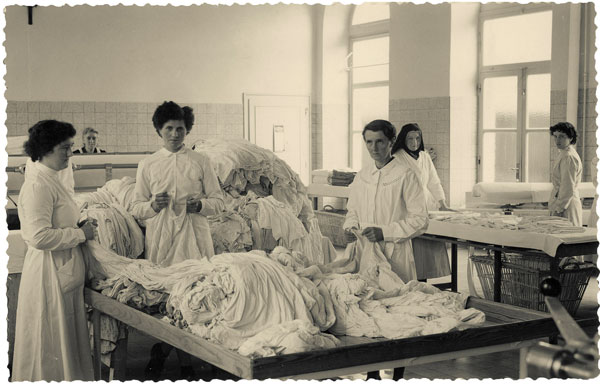 Postcard from the series "Bon-Sauveur de Picauville" (Manche), undated.
©Photograph: Chardey.  Archives Fondation Bon-Sauveur
La Maison Rouge
10, boulevard de la Bastille
75012 Paris
France
Tel: +33 (0)1 40 01 08 81
Metro: Quai de la Rapée (line 5).