Exhibition: Lengguru, un monde perdu
---
The Aquarium Tropical de la Porte Dorée in Paris hosts a photos exhibition about the Lengguru mountain. Located in West Papua, on the New-Guinea Island in Indonesia, this mountain is characterised by numerous series of mountainous reliefs which are separated by deep valleys. This location difficult to access for man constitutes an important reserve of biodiversity, providing shelter for numerous endemic species (namely, that we only find here). This retrospective invites us to follow the 2014 Lengguru expedition which has called up around a hundred participants, including 25 European scientists and 45 Indonesian scientists. They studied thus the local ecosystems, the terrestrial, aquatic, sea or continental ones, deeply or aloft. This project falls within an approach both ethical and sustainable of environment protection. There are a few days left to discover these beautiful shots, so hurry up!
"Lengguru, un monde perdu" ("Lengguru, a lost world") exhibition, from December 22nd to January 31st 2016.
Open Tuesday-Friday from 10am to 5:30pm, on Saturday and Sunday from 10am to 7pm.
Full rate: €5 / Concession: (4-25 years old): €3.50 / Free for children under the age of 4.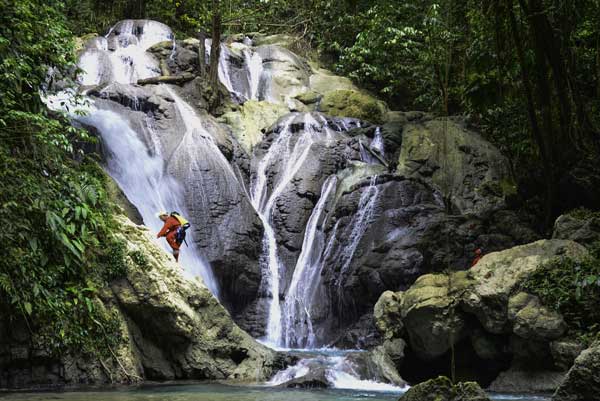 © IRD/Jean-Marc Porte/Lengguru 2014:
Potholers sail up the waterways to reach the caves or resurgences to explore.
Here, in the Kumawa area.

Aquarium Tropical de la Porte Dorée (in French)
293, avenue Daumesnil
75012 Paris
France
Tel: +33 (0)1 53 59 58 60
Metro: Porte Dorée (line 8).