Exhibition: Le patrimoine s'en va en guerre
---
Through its new exhibition "1914-1918. Le patrimoine s'en va en guerre", the Cité de l'Architecture shows how the destruction of heritage has been used and staged in order to fuel patriotism and this, by political power. Thus, it comes back on two retrospectives, organised in 1915 at the Trocadéro and in 1916 at the Petit Palais, which showed "martyr cities", in order to stir up hatred among French people for the enemy. Through the course of their works, the intellectuals and other artists knew how to sow seeds of doubt in the general public's mind, multiplying their tributes to real or imaginary destructions suffered by France. Among them, we can mention the Notre-Dame Cathedral of Reims's (on September 19th 1914) or the bibliothèque de Louvain (August 25th and 26th 1914). This event shows how the heritage cause was a powerful ideological weapon. A topic which happens to be in the news, especially with the conflicts in Iraq and Syria.
Exhibition "1914-1918. Le patrimoine s'en va en guerre", from March 11th to July 4th 2016.
Open every day except on Tuesday, from 11am to 7pm.
Nocturnal on Thursday until 9pm.
Full rate: €12 / Reduced rate: €8.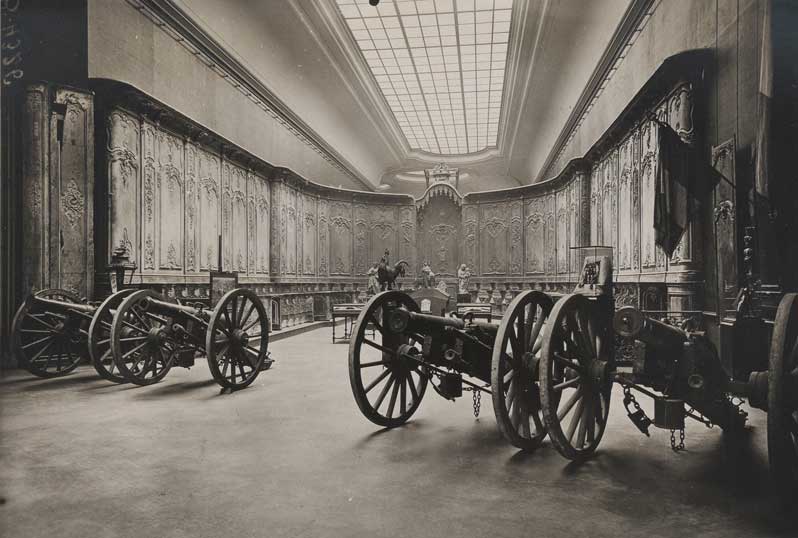 View of the Exhibition of defaced works of art or coming from regions devastated by the enemy at the Petit Palais, 1916.
Woodwork of the choir (Louis XV period) in The Notre-Dame cathedral
© Collection Bibliothèque de documentation internationale contemporaine
Cité de l'architecture et du patrimoine
1, place du Trocadéro
75116 Paris
France
Tel.: +33 (0)1 58 51 52 00
Metro: Trocadéro (lines 6 and 9).