Exhibition: Le musée imaginaire de Tintin
---
To celebrate the 40th anniversary of its creation, the Musée en Herbe is welcoming one of the most famous comics characters: Tintin. Until August 31st of 2015, Tintin, Snowy and other heroes from the series created by Hergé will be staying in Paris, thanks to the many pieces lent by the Musée Hergé of Louvain-la-Neuve (Belgium). Visitors will discover original comic strips and drawings attesting of the author's wide imagination and talent. It will also be the opportunity to appreciate the fantastic architecture of the Belgian museum. Throughout the exhibition, enlargements of panels from The Adventures of Tintin will be put side to side with ethnographic objects lent by the Musée du quai Branly and the Musée du Louvre. These artefacts are references to the civilisations the young reporter encountered in his many adventures and travels.
"Le musée imaginaire de Tintin" exhibition, from February 12th to August 31st 2015.
Open every day, from 10am to 7pm.
Late openings on Thursdays, until 9pm.
Family groups: €6 per person.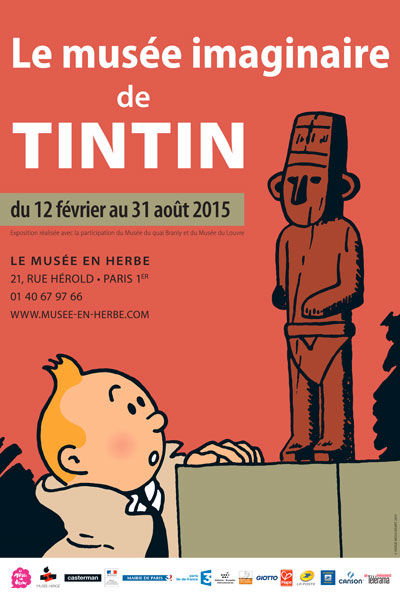 © Hergé/Moulinsart 2015
Musée en Herbe
21, rue Hérold
75001 Paris
France
Tel: +33 (0)1 40 67 97 66
Metro: Les Halles (line 4), Palais Royal – Musée du Louvre (lines 1 or 7) or Sentier (line 3).