Exhibition: Le monde secret du plancton
---
Just before the 2015 United Nations Climate Change Conference (COP21), the Parisian Pavillon de l'Eau showcases twenty creations made in 2014 by the students of the École nationale supérieure des Arts Décoratifs (a public university of art and design). Drawings, engravings and sculptures are thus presented to the public. In order to shape them, the artists drew inspiration from scientific discoveries from the Tara Expedition on marine plankton. These works reflect the extraordinary seabed biodiversity, lingering over their colorful palette and sometimes-improbable geometric forms, among others. With this exhibition, the Pavillon de l'Eau also aims to show the essential role that plankton plays in climate regulation, as well as the perpetuation of life on Earth. "Le monde secret du plancton" (The secret world of plankton) is the opportunity to fully apprehend our responsibility in the preservation of the fragile ecosystem that is the ocean.
"Le monde secret du plancton" exhibition, from June 5th to September 5th 2015.
Open Monday to Friday from 10am to 6pm, and on Saturday from 11am to 7pm.
Closed on public holidays.
Free entrance.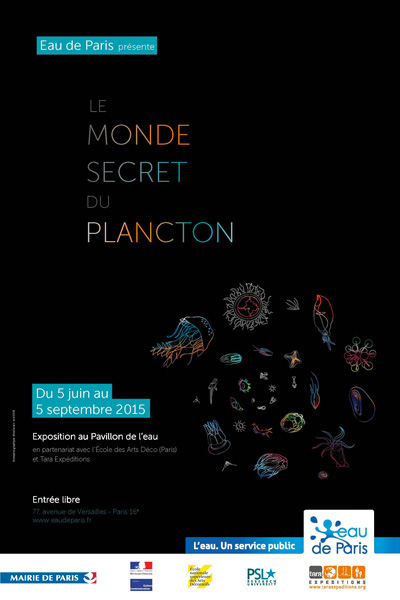 © Eau de Paris
Pavillon de l'Eau (in French)
77, avenue de Versailles
75016 Paris
France
Metro: Mirabeau (line 10).