Exhibition: Street Art in the 10th Arrondissement
---
The 10th arrondissement town hall, in association with the Galerie Le Pari(s) urbain (meaning "the urban Paris/bet"), holds a free exhibition on street art. The main hall of the building is hosting the works of eleven talented street artists and photographers (Balyc, Shaz'Art, Karine Paoli, etc.). Until March 14th.
Exhibition: "L'art de rue se rue" (Street art dashes to the 10th arrondissement), from February 17th to March 14th, 2014.
Open on Monday, Tuesday, Wednesday and Friday from 8:30am to 5pm, on Thursday from 8:30am to 7:30pm, and on Saturday from 9am to 12:30pm.
Free entrance.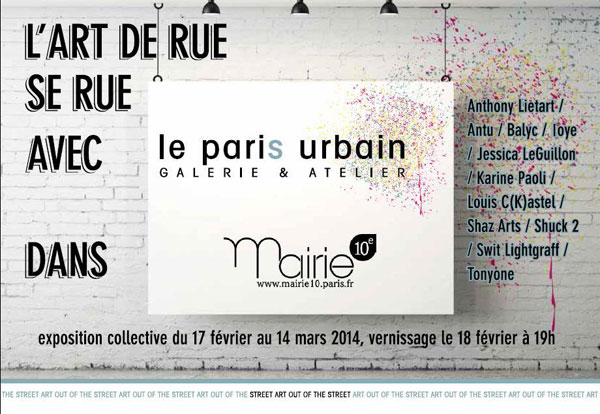 Photo credits: Facebook 10th arrondissement town hall
Paris 10th arrondissement town hall
72, rue du Faubourg Saint-Martin
75010 Paris
France
Tel: +33 (0)1 53 72 10 00
Metro: Château d'Eau (line 4) and Jacques Bonsergent (line 5).