Exhibition: Georges-Henri Pingusson (1894-1978)
---
Until July 2nd, 2018, the Cité de l'Architecture et du Patrimoine de la Ville de Paris focuses on the French architect Georges-Henri Pingusson (1894-1978), one of the pioneers of French modernism, a movement which appeared during World War I. The exhibition puts the spotlight on his most beautiful creations. Among them, his famous master-piece the hotel Latitude 43, which he designed in 1932 at Saint-Tropez, or the Mémorial des Martyrs de la Déportation, a monument built in Paris thirty years later, to honour the memory of all the French deportees of World War II. Lovers of the 20th-century architecture will also be able to admire a panoramic presentation of the research carried out by the artist throughout his long career. Born in 1894 in Clermont-Ferrand, Georges-Henri Pingusson studied at the École nationale supérieure des beaux-arts (School of Fine Arts) of Paris from 1919 to 1925. To learn more about this visionary and prolific architect, head to the Cité de l'Architecture, located just a few-minute walk away from the Green Hotels Paris, the Eiffel Trocadéro and the Gavarni.
Exhibition "Georges-Henri Pingusson (1894-1978) Une voix singulière du mouvement moderne" ("A singular voice of the modern movement"), from February 16th to July 2nd, 2018.
Open every day, except on Tuesday, from 11a.m. to 7p.m.
Nocturnal on Thursday until 9p.m.
Full rate: €8 / Concessions: €6.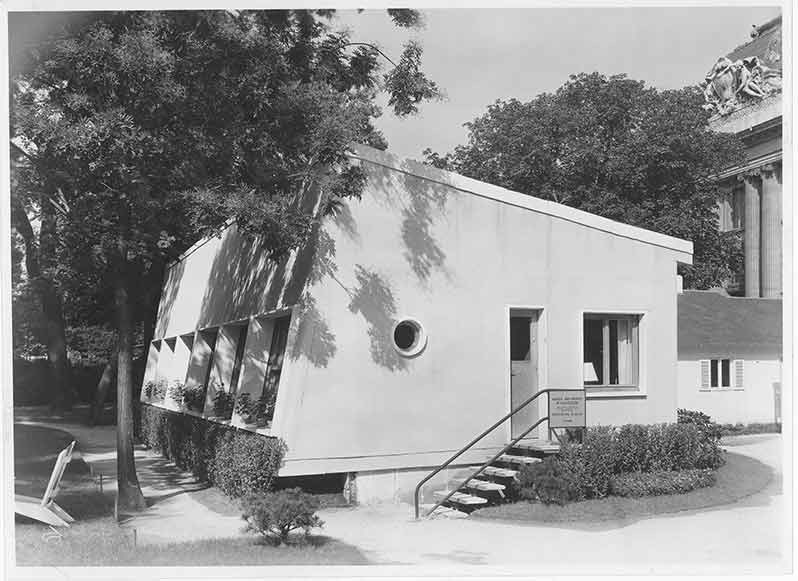 Exterior view of the manufactured house presented at the Exposition d'urbanisme et d'habitation in Paris, Studio Jean Collas picture, Paris, n.d. 1946-1947.
©ENSBA, Cité de l'architecture & du patrimoine / Archives d'architecture du XXe siècle
Cité de l'architecture et du patrimoine
1, place du Trocadéro
75116 Paris
France
Tel: +33 (0)1 58 51 52 00
Metro: Trocadéro (lines 6 and 9).