Exhibition: Emile Bernard (1868-1941)
---
The Musée de l'Orangerie is hosting the very first exhibition dedicated to the painter, art critic, engraver and writer Emile Bernard (1868-1941). The multi-talented artist influenced many painters such as Gauguin and Van Gogh with his work. By not limiting himself to a single genre, he redefined the very notion of style trough his creations, considering schematic stylisation and the research of symbolist primitivism. A major actor of the birth of modern art, Emile Bernard was devoted to his quest for an absolute in aesthetics and in art. A pursuit we can observe in each of his masterpieces.
"Emile Bernard (1868-1941)" exhibition, from September 2014 to January 5th 2015.
Open every day from 9am to 6pm.
Closed on Tuesday and on December 25th.
Full rate: €9 / Concession: €6.50.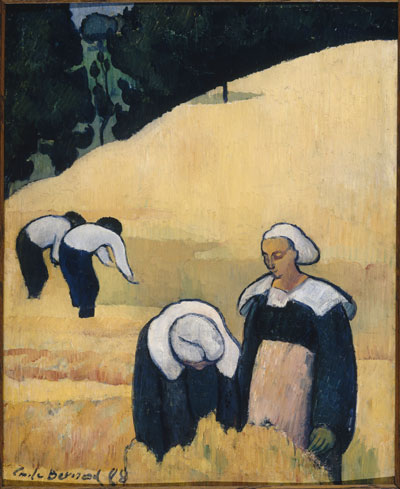 Emile Bernard, La Moisson d'un champ de blé, 1888 ("The Harvest")
© RMN-Grand Palais (musée d'Orsay) / Jean-Gilles Berizzi
Musée de l'Orangerie
Jardin des Tuileries
75001 Paris
France
Tel: +33 (0)1 44 50 43 00
Metro: Concorde (lines 1, 8 and 12).