Exhibition: Simone Nieweg, Dans les bois
---
Until September 1st, 2016, the Goethe Institut welcomes the shots of German photographer Simone Nieweg. For more than 30 years, this former disciple of Bernd and Hilla Becher has been taking photographs only dedicated to nature and landscapes. For her new series entitled 'Dans les bois', the artist dedicated herself to forests and trees in Europe and North America.  Drawing her inspiration from a poem of Heinrich Heine—'Waldeinsamkeit' (the feeling of being alone in the woods)—she reveals both melancholic and romantic prints without denying the wild side of the woods which resist the imprint of man. She has been hiking for long hours during which she has been waiting for the appropriate time to seize these moments of grace—carefully selecting her choices of light, perspectives and framing. The result is impressive—you literally dive into the photograph— time seems to be suspended and the calm which reigns in her works is beneficial. This free exhibition can be discovered just nearby the Green Hotels Paris, the Eiffel Trocadéro and the Gavarni.
Exhibition 'Simone Nieweg – Dans les bois', from May 25th to September 1st, 2016.
Open on Tuesday, Wednesday and Friday from 1pm to 8pm, on Thursday from 10am to 4pm and on Saturday from 10am to 2pm.
Closed on Sunday and Monday.
Free entrance.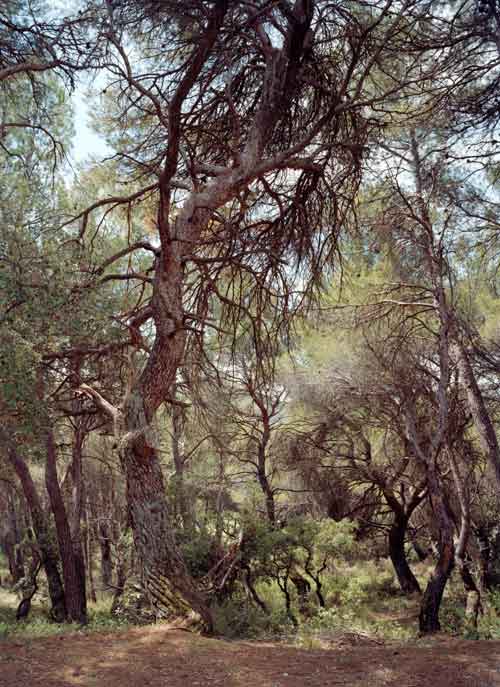 Pinienwald bei Le Barroux, Vaucluse 2012 © Simone Nieweg / courtesy Schirmer/Mosel
Goethe Institut (in French)
17, avenue d'Iéna
75116 Paris
France
Tel.: +33 (0)1 44 43 92 30
Metro: Iéna (line 9).