Exhibition: Chagall, Soulages, Benzaken… Le Vitrail contemporain
---
Key element in the French national heritage, contemporary stained glasses are featured at the Parisian Cité de l'Architecture, located two steps away from the Green Hotels Paris (the Eiffel Trocadéro and the Gavarni). This retrospective focuses on the creations of Chagall, Soulages, Tremlett, Rouault, Raysse or Benzaken, who created the stained glasses of some of the most prestigious architectural landmarks, whether religious or agnostic, modern or old. During the tour, we discover stained glasses, but also models that allude to the close relationship between these artists and glass painters. A fine exhibition, which allows visitors to penetrate this fascinating universe.
"Chagall, Soulages, Benzaken... Le Vitrail contemporain" exhibition, from May 20th to September 21st 2015.
Open on Monday, Wednesday, Friday, Saturday and Sunday, from 11am to 7pm.
Late opening on Thursday until 9pm.
Closed on Tuesday.
Full rate: €12 / Normal rate: €8.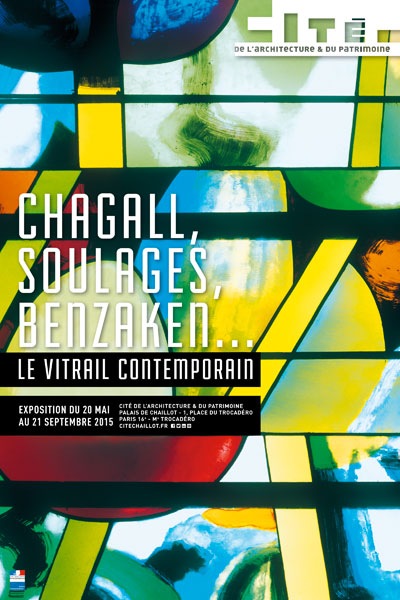 Chagall, Soulages, Benzaken... le vitrail contemporain. Exhibition poster. - DR
Cité de l'architecture et du patrimoine
1, place du Trocadéro
75116 Paris
France
Tel: +33 (0)1 58 51 52 00
Metro: Trocadéro (lines 6 and 9).