Exhibition: Ascetics, sultans and maharajas
---
At the same time as its exhibition "Carte blanche to Jiang Dahai", which runs until 6th February 2017, the Musée Guimet invites us to explore another exhibition called "Ascetics, sultans and maharajas". There are 70 works of Indian miniatures exhibited here, selected from amongst the most beautiful pages in the museum. The exhibition is divided into several themes: portraits, court scenes and genre scenes, historical and literary manuscripts, representations of fauna and flora, ragamalas (personified modes of music), etc. All the major schools of painting from the 16th to the 19th century are represented, including the Deccan, Rajasthani, Mughal and Punjab Hills. This event provides a beautiful portrait of Indian painting and is very close to Green Hotels Paris, the Eiffel Trocadéro and the Gavarni.
Exhibition "Ascetics, sultans and maharajas, Indian Pages of the Musée National des Arts Asiatiques - Guimet", from 19th October 2016 to 13th February 2017.
Open every day, except on Tuesday, from 10a.m. to 6p.m.
Full price: €9,50 / Concessions: €7.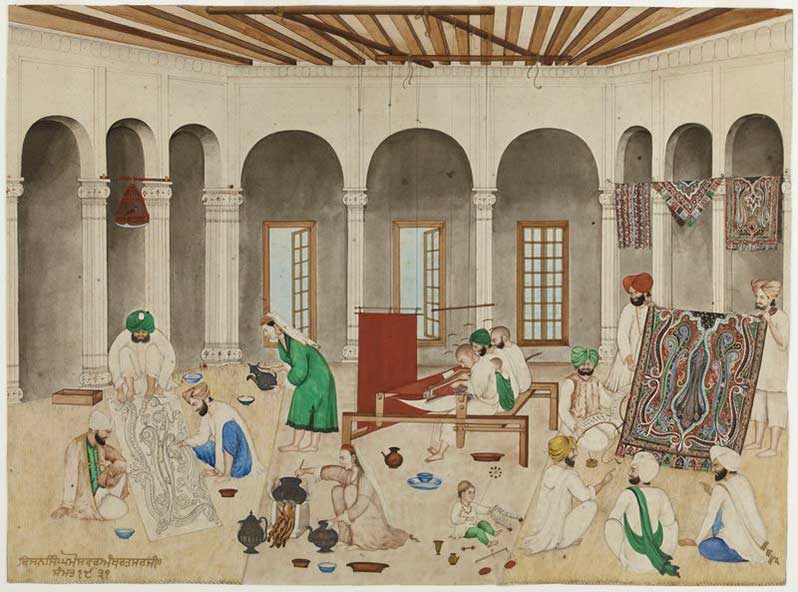 Bishan Singh
Atelier de tisserand de châles du Cachemire
Ecole du Punjâb, Amritsar
Daté 1874-1875
Gouache sur papier
MNAAG. Don de la Société des Amis du Musée Guimet, 2015, MA 12702
Musée national des Arts asiatiques - Musée Guimet
6, place d'Iéna
75016 Paris
France
Tel.: +33 (0)1 56 52 53 00
Metro: Iéna (line 9) or Pont de l'Alma (RER C).