Carolyn Carlson makes the air dance at the Chaillot Theatre
---
After Paulo Ribeiro's dance show, it is the turn of Carolyn Carlson to light up the Théâtre National de Chaillot from February 17th to 20th next, with the 22 dancers of the Opéra de Bordeaux's ballet. For her new creation entitled "Pneuma", the American choreographer took inspiration from philosopher Gaston Bachelard's famous text "Air and Dreams: an assay on the imagination of movement" ("L'Air et les Songes: essai sur l'imagination du mouvement").
A seven-scene breathtaking creation
She expresses her poetic conception of the air that we don't see and thanks to which we exist, in seven touching scenes. She explores Man's duality, between body and mind, gravity and rise, material and thoughts. The ballet is a real visual and choreographic experience. Here, wind and suspension are the keywords. The twenty-two dancers evolve in an uncluttered space, accompanied by the contemporary music of Gavin Bryar, for an almost hypnotic finish. We let us be taken by this captivating atmosphere, full of zen, which ring like an ode to lightness. This work in weightlessness is to discover nearby the Green Hotel Paris, the Eiffel Trocadéro and the Gavarni, in the 16th district of Paris.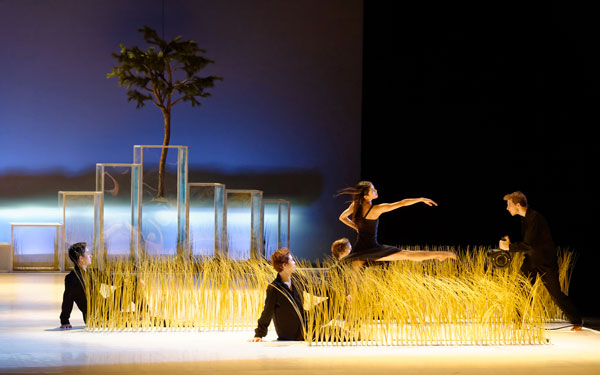 Pneuma © Sigrid Colomyès
"Pneuma", from February 17th to 20th 2016.
Performances on Wednesday, Friday and Saturday at 8:30pm and on Thursday at 7:30pm.
Full rate: €39 / Concession: €15 / Youth rate (18-27 years old): €18.
Théâtre National de Chaillot
1, place du Trocadéro
75016 Paris
France
Tel: +33 (0)1 53 65 30 00
Metro: Trocadéro (lines 6 and 9) or Iéna (line 9).