Palimpseste Duo: The new show by Michèle Noiret
---
Former student of Mudra—Maurice Béjart's School—Belgian choreographer Michèle Noiret proposes 'Palimpseste Duo' at the Théâtre National de Chaillot, from next September 27th to October 8th. A show which can be discovered just nearby the Green Hotels Paris, the Eiffel Trocadéro and the Gavarni.
A long-term endeavour
Everything started in 1976 when she met composer Karlheinz Shockhausen, a moment which marked her very much. 1997 came when she created the show 'Solo Stockhausen' on the composer's music for Tierkreis, 12 melodies corresponding to the zodiac signs. Ten years later, it's for film that the show came alive, under the name of 'Solo' and directed by Thierry Knauff. She adapted it again for stage in 2014 calling it 'Palimpseste'. It was the beginning of a new collaboration, 'a handover' with choreographer David Drouard, trained at the Conservatoire national de Nantes. 'Palimpseste Duo' is conceived shortly after and rooted in all these experiences. The 'Palimpseste' word embodies the traces of 1997 show and of the film which are here introduced differently, in nonstop movement, but on the same sounds. Between swaying hips and strong gestures, the one who likes to 'make the inwardness of human beings materialise' and her partner take us in a play which comes from afar.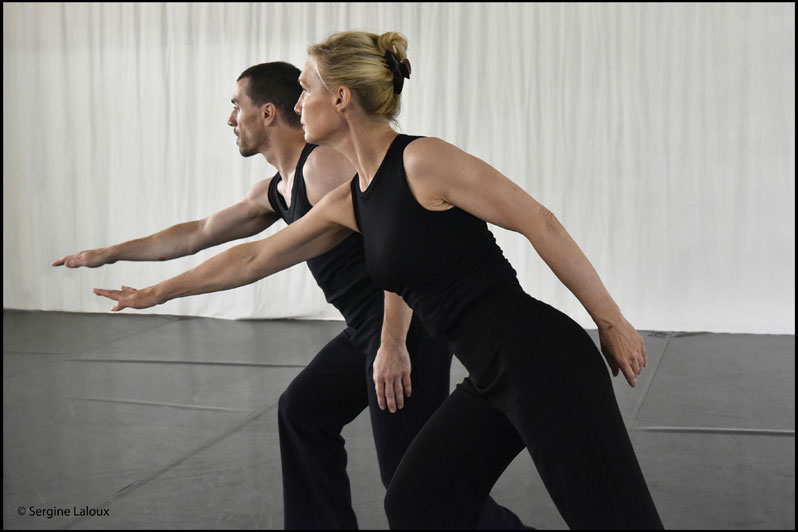 Palimpseste © Sergine Laloux
'Palimpseste Duo' show by Michèle Noiret, from September 27th to October 8th, 2016.
Performances at 8:45pm on September 27th, 28th and 30th, 2016 and on October 7th and 8th, 2016.
Performances at 7:30pm on September 29th, 2016 and on October 6th, 2016.
Full rate: €35 / Reduced rate: €27 / Youth rates: €11 and 13.
Théâtre National de Chaillot
1, place du Trocadéro
75016 Paris
France
Tel.: +33 (0)1 53 65 30 00
Metro: Trocadéro (lines 6 and 9) or Iéna (line 9).