7th Edition of the Ourcq Festival
---
To celebrate summer, and the nice weather that comes with it, the Canal de l'Ourcq holds its annual festival. L'Eté du Canal (The Summer of the Canal) proposes various cultural, sports and playful activities for young and old alike. Whether you are fond of cooking, arts, music or shows, you will certainly find something to do during your stay in Paris.
For sportpersons
During the event, you will be able to go for a bike ride and admire Parisian landscapes on the bicycle paths. For instance you can rent bikes for your family, whether for a few hours of for the whole day, at the AICV (Bicycle Animation Integration & Culture), located at the bassin de la Villette and in the parc de la Bergère in Bobigny. If you love nautical sports, you will be glad to know that the festival also comprises kayak rental from Sevran, which enables you to enjoy the beautiful landscape of the forest park of the Poudrerie.
For dancers and party-goers
If you love to party, don't worry: many musical events are comprised in the program. Every weekend, you will be able to dance along the water during the bals barges (literally, the crazy balls), swinging at the pace of the music played by the featured bands. All kinds of genres, generations and skill levels are mixed in a convivial and festive atmosphere. A series of concerts is also scheduled, with artists such as Machi, Ricky Hollywood, Christian Zanesi, Noyade, Jac Berocal, Svengalisghost and many more.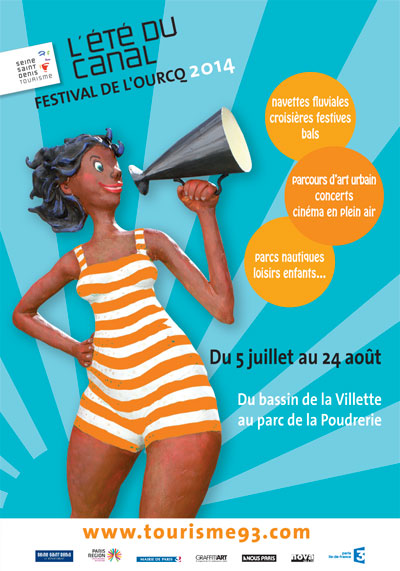 All rights reserved
For art lovers
To pay a tribute to urban art, the Canal de l'Ourcq welcomes the exhibition "De l'Art à l'Ourcq" (from Art to Ourcq). Thirty urban artists have gathered to prepare a creative and surprising work on street furniture of their choice, to make townscape even more unusual. Among these nutty artists, you can find Artof Popof, Cristoval Diaz, Marko93, Derlon, Olivia de Bona, Ox and Lapinthur.
For budding sailors
If you have sea legs, you can rent electrical boats without license required, of various capacity (from 5 to 11 persons), whether for a few hours or for an entire day. You can also sail on river shuttles on the canal or take part in various cruises. The discovery cruises will show you the canal in a cultural perspective, whereas on the festive cruises you will enjoy a crazy party. The more nostalgic will go for the rustic cruise, in a boat tugged by a draft horse, to discover the smallest navigable canal in France and admire splendid bucolic scenery.
L'Eté du Canal, l'Ourcq en fête, from July 5th to August 24th 2014.
Shuttles from the bassin de la Villette.
Metro: Jaurès (lines 2, 5 et 7bis).