The 19th Gardens Festival
---
September 26th and 27th welcome the 19th edition of the Gardens Festival, and there will be nearly 400 events to explore in 150 places all over the Ile-de-France! These two days celebrating plants and animals are completely dedicated to letting Parisians and tourists get closer to the beauties of nature. There are different events offered to the public, bike rides or walks, shared walks in gardens and other green spaces, and the chance to meet professionals (gardeners, horticulturists and tree surgeons), as well as other surprises. A few days ago we talked to you about the "Paris Fleurs Sauvages" exhibition which is being held in Parc de Bercy, in the 12th arrondissement, until October 3rd. During the Gardens Festival there are activities in the park (learn flower arranging, insect watching or how to recognize Paris' trees, etc.), and you can also admire the exhibition of Magali Roucaut's photographs.
19th Gardens Festival, September 26th and 27th, 2015.
Free events.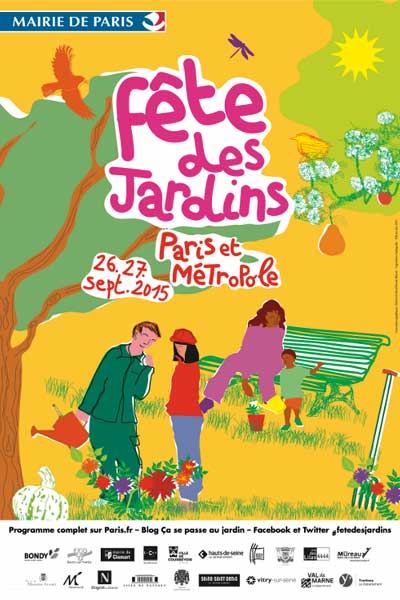 Official poster of the 19th Gardens Festival © DR
Parc de Bercy
128, quai de Bercy
75012 Paris
France
Metro: Cour Saint-Emilion (line 14).