Ethical and luxurious cuff links!
---
Chic and ecology once again mix together. The Cuff Links Shop was able to renew old products, by offering luxurious and recycled creations... Some fashion representatives often proved their commitment in favor of environment. Ecology is becoming a real trend in fashion. The Cuff Links Shop is no exception to the rule. Their creations? Cuff links made from old watches' mechanism.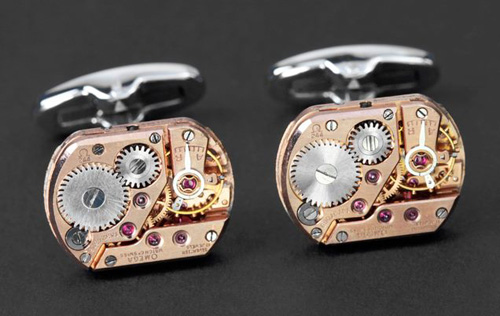 Photo credit: Cuff Links from Omega watches going back to 1938 to 1959.
A timeless luxury
Known for its originality, the Cuff Links Shop never lacks inspiration. It created three models called "Timeless": Zenith, Omega and Longines, which are made of mechanism of old watches from the eponymous brands. Going back to the 40s and the 60s, these cuff links are a beautiful tribute to the past. The price? 390€ for a model.
To order, go directly to the website of the Cuff Links Shop.