The Eiffel Trocadéro Hotel guards itself with plant walls
---
The Eiffel Trocadéro Hotel, Xavier´s Moraga´s second ecologic establishment, has just opened its doors to the public; we've decided to dig in on one of its green particularities: the walls made of plants. Florist, landscape artist, and creator, Naturalys is an enterprise specialized in stabilized plant design. After the installation of 3 amazing walls in the entrance, Loïc Derrien, the man behind this work, accepted to answer us some questions.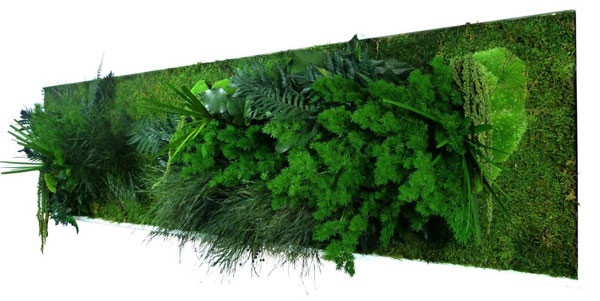 Green Hotels Paris – Introduce us to your work?
Loïc Derrien: Aware of the difficulty for an establishment that's very demanding of its interior, to maintain a plant and flower made decoration through out the year, we've been doing plant walls for professionals (restaurants airports), and mainly for the hotel industry, for the last 6 years. We get our plants from our franchised network and from more than 200 partner florists Flowerbox.
Green Hotels Paris – In what does this process consists?
L.D.: The stabilized plants and flowers are 100% natural and environmentally friendly. They are the result of a unique plant conservation process that consists in the replacement of the sap for a natural glycerin-based stabilizing treatment product. This product allows the conservation, freshness and softness of these plants for even a decade, with no cost. This means that they don't need water, earth or light.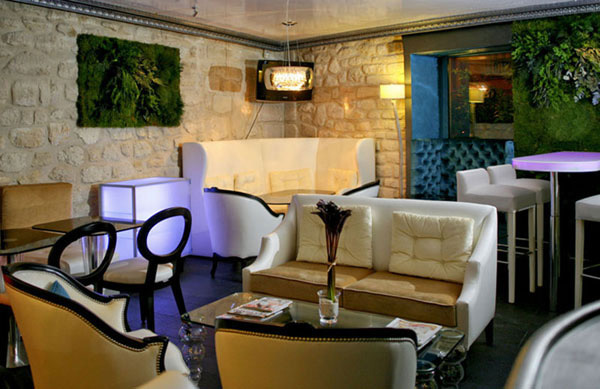 Green Hotels Paris – How to look after a plant wall?
L.D.: Plant Walls are made for an interior use only. The must be kept away from direct sun exposure coming from behind a window. However they handle pretty well the air conditioning, the heating, the lighting, total darkness and even smoke. Contrary to artificial plants, stabilized plants are not static, dust won't stick to them. Occasionally cleaning them will be enough, just using just a simple hair dryer.
Green Hotels Paris – Can all plants be stabilized?
L.D.: No, they have to hang on a minimum 5 months after the stabilization process to be considered stable. So that excludes plants and flowers that need a lot of water, because of this characteristic they're fragile for this process, for example: orchids and tulips. Nevertheless, we count with over 50 stabilized species of plants.
Naturalys
33, Chemin de la Rollande
84140 Avignon
France
T.: +33 (0)4 90 81 07 16
contact@naturalys.fr