Rainforest: the new summer music and environmentally responsible festival
---
This summer, the Ile-de-France region welcomes a brand new festival, which unites ecology and music. Organised in the forest of Fontainebleau on 74.6 acres of clearing, Rainforest intends to raise festival-goers' awareness of selective sorting while enabling them to have fun!
A rich programming
For its first edition, Rainforest allows itself brilliant top of the bills, like Arthur H, the Ibeyi twins or Etienne de Crécy's DJ set. Nox, Ana Zimmer, Acid Arab or Jay Prince are also awaited. Because Rainforest is above all else a mix of different musical genres, from electro to rap, from rock to pop. In addition to the concerts, organisers thought of everything ! They will suggest yoga or Pilates classes surrounded by nature, with the participation of osteopaths. It will also be possible to take part in football, petanque or volleyball tournaments on site.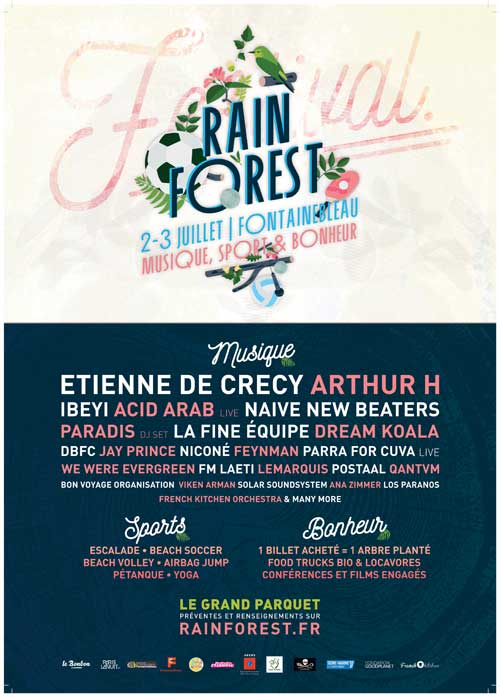 © Rainforest festival
Focus on eco-responsibility
Like We Love Green, this event means to improve our knowledge of ecology and eco-responsible gestures. For this, creative workshops and conferences will be organised over the two days. Organic food trucks, using local products, will entertain the participants! Finally, musicians will use a Solar Sound System, made up of turn tables and a strong sound system, itself powered by solar energy or pedalling bikes.
Know that for one ticket bought, one tree is planted. This is an opportunity to enjoy summer while doing something good for the planet!
Festival Rainforest, from July 2nd to 3rd, 2016. (in French)
Open every day from noon to midnight.
Pass 2 days: 49.50 euros.
Ticket 1 day (valid for Sunday): 27.50 euros.
Stade équestre du Grand Parquet
RN 152, route d'Orléans
77300 Fontainebleau
France
Shuttles from Paris: departures Porte Maillot, Porte de Vincennes and Porte d'Orléans.