Les Nouveaux Affineurs: creators of ripened veggie cheeses
---
Behind the French brand Les Nouveaux Affineurs are 5 young scientists who have the desire to revolutionise one of the emblems of French national gastronomy: cheese. Their range is composed of three ripened veggie cheeses called Margot, Albert and Germain. Entirely vegan, they do not contain any products of animal origin, additives or preservatives. They are made in an artisanal way and matured for weeks, just as the classic cheeses. Animal milk is replaced here by vegetable proteins from cashew nuts or soy from organic farming. This vegan production significantly reduces the environmental impact (up to 85%) of the product compared to a traditional dairy cheese. Les Nouveaux Affineurs cheeses are available for pre-order on the Ulule website. You can choose to have them delivered to your home or to pick them up in Paris, in the vegan Aujourd'hui Demain concept store.
The Nouveaux Affineurs' veggie cheeses are on sale on the Ulule website.
1 cheese at choice (Margot, Albert or Germain): from €13.
More information about Les Nouveaux Affineurs (website only available in French).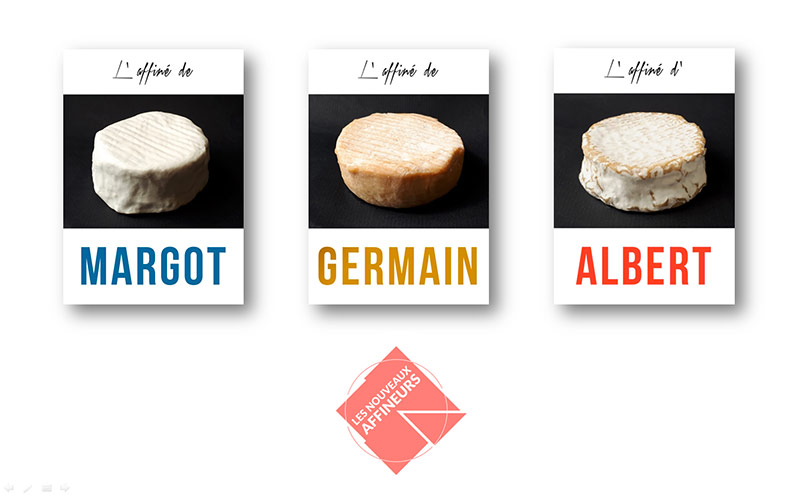 © Les Nouveaux Affineurs
Aujourd'hui Demain (website only available in French)
42, rue du Chemin Vert
75011 Paris
France
Tel: +33 (0)9 81 65 20 01
Metro: Richard Lenoir (line 5) or Chemin Vert (line 8).