Exhibit: Olafur Eliasson, Contact
---
The Icelandic artist Olafur Eliasson organised his first major exhibit thanks to the Modern Art Museum of Paris in 2002. Since then, he has come a long way and is now presenting his work in the Fondation Louis Vuitton. It is on the ground floor of the building designed by Frank Gehry that Eliasson is playing with the natural light that fills the space through mirror effects. By displaying a sculpture with geometrical facets in the centre of the room, he thus creates a light ballet through the use of a detector that catches sunlight and redirects it according to the time of the day.
"Olafur Eliasson: Contact" exhibit, from December 17th 2014 to February 16th 2015.
Open on Monday, Wednesday and Thursday from Noon to 7pm, and on Saturday and Sunday from 11am to 8pm.
Late opening on Friday until 11pm.
From December 20th 2014 to January 4th 2015: every day from 10am to 8pm/ Late opening on Friday until 11pm.
Closed on Thursday.
Full rate: €14 / Concession: from €5 to €10.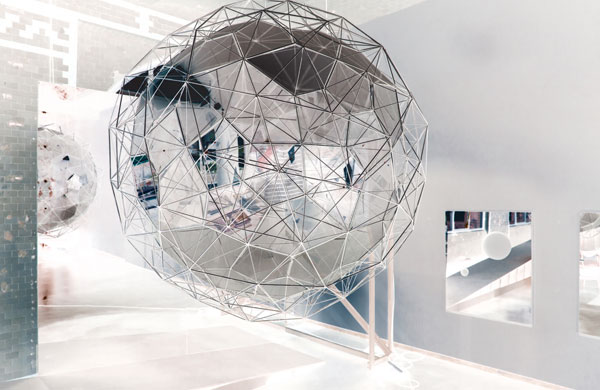 Olafur Eliasson, Dust particle with ramp test for Contact, Studio Olafur Eliasson, 2014
© Maria del Pilar Garcia Ayensa Studio Olafur Eliasson
Fondation Louis Vuitton
8, avenue du Mahatma Gandhi
Bois de Boulogne
75116 Paris
Tel: +33 (0)1 40 69 96 00
contact@fondationlouisvuitton.fr 
Metro: Les Sablons (line 1).