Solar street lights on exhibition at the Berges de Seine
---
From September 12th to October 4th, 2015 there will be a free exhibition of 3 solar street lights at the Berges de Seine, organized by Électriciens sans frontières. This NGO carries out international electric and water projects for people who depend on energy sources that are poisonous for the health and the environment. With their own solar panels and a recharge point for cellular phones, these new generation street lamps offer sustainable access to energy to these excluded communities. Hervé Gouyet, President of Électriciens sans frontières, explained: "We would like to show the public that there are simple, affordable ways to struggle against poverty and reinforce the most vulnerable populations' ability to adapt to climatic change." For example, we know that in sub-Saharan Africa, more than 60% of the population don't have access to electricity, but they still have cellular phones! With these street lamps the NGO Électriciens sans frontières proves that there are renewable energy solutions which can provide electricity to rural zones as well as to the poorest regions. It will also reduce the greenhouse effect on the planet. During this exhibition, the NGO is suggesting that the public charge their cell phones on one of these street lamps and give a donation of their choice, which will be used to finance a project in Benin to put electricity into a school or a health center.
Exhibition "Des lampadaires solaires pas comme les autres " ("Solar powered street lamps are special"), from September 12th to October 4th, 2015.
Free, 24/7.
Learn more about Électriciens sans frontières.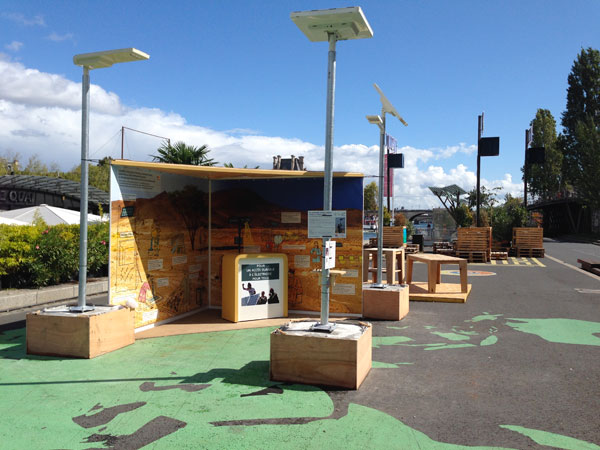 © Électriciens sans frontières
Berges de Seine, côté musée d'Orsay
Near the pedestrian bridge Léopold-Sédar-Senghor
75007 Paris
France
Metro: Musée d'Orsay (RER C) or Assemblée Nationale (line 12).