Exhibition: Climats artificiels
---
Since 25 years, the EDF foundation hosts exhibitions which evoke the link between mankind and nature. Responding to the COP21, the foundation offers to discover around thirty works made by renowned contemporary artists. These works offer a metaphoric vision of climate issues, while helping to understand its changes. With "Climats artificiels" ("Artificial climates"), the installation, photographs or videos illustrate the illusionist wish of the human being who wants to control the nature. In this way, visitors could admire the metaphysical creations, sometimes poetic: like vest-pocket biosphere imagined to fight the urban pollution, clouds made of peanut bark or in ceramic, as well as a cloud that you could cross like in a dream. This free exhibition is for young and old alike, and will display works of Laurent Grasso, Yoko Ono, Hicham Berrada, and even, Spencer Finch.
Exhibition "Climats artificiels" ("Artificial climates"), from October 4th 2015 to February 28th 2016.
Open Tuesday - Sunday, from 12:00 am to 7:00 pm, except bank holiday.
Free admission.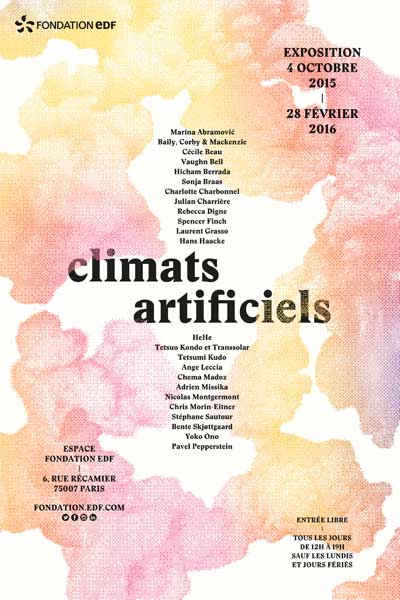 Climats artificiels - DR
Espace Fondation EDF
6, rue Récamier
75007 Paris
France
Tel: +33 (0)1 53 63 23 45
fondation-edf@edf.fr
Metro: Sèvres-Babylone (lines 10 or 12) and Saint-Sulpice (line 4).