Eat4good: the application to eat better
---
Eat4good is an application which encourages us to eat better, while respecting the environment.
How does it work?
First, enter your eating habits: how often you eat red or white meat, dairy products, plants or fish. According to your results, you are attributed an eco-label: from A+++, the perfect vegetarian profile to G, more carnivorous profile. Then, these statistics unveil information on animal suffering, human or ocean health, deforestation, CO2 emissions or the water consumption. The aim is to encourage you to eat greener and fairer, while discovering the environmental impact of your nutrition. This free application also offers some solutions to eat more responsibly, thanks to a section named "in practice, a few ideas". We learn that improve our nutrition turns out to be a breeze.
For your information, the iPhone version is currently being developed. Thus, Eat4good will soon be available for the "Apple addicts", be patient!
Eat4good application, available for free on Google Play.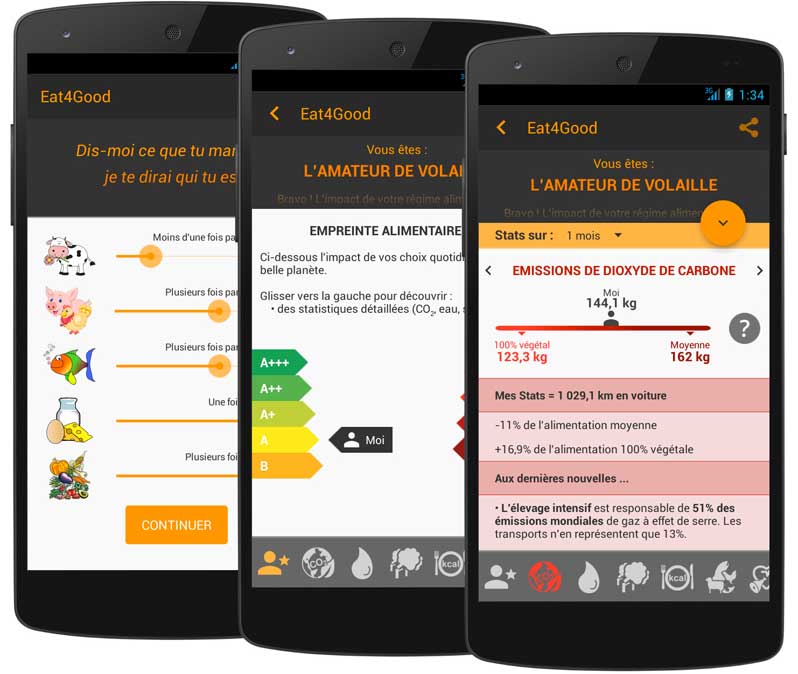 © Eat4good