2nd edition of the Salon Pari Fermier de Noël
---
After a particularly successful 1st edition in December 2015, the Salon Pari Fermier de Noël is back for its second edition, from 16th to 18th December 2016 at Parc Floral de Paris. More than 80 farmers and producers will be on site tomorrow, for you to discover their products. In addition to foie gras, the star of the show, a wide selection of festive dishes await you: Jean-Christophe Renault's oysters, Véronique Dufrenne's fruit jellies, veal from Aveyron by Colette Boyer, Isabella Gauffeny's roast lamb etc. There are also some exotic meats, such as Matthew Peron's bison, or Isabelle Perrette's ostrich. A book has been published by Editions Larousse to mark with occasion, presenting 110 producers, 800 local products and a hundred recipes.
Salon Pari Fermier de Noël (in French), from 16th to 18th December 2016.
Open from 10a.m. to 7p.m., except on Sunday until 6p.m.
Free entrance with invitation / Free under 14.
Book "La France gourmande 100 % Terroirs avec Pari Fermier", €29,95, Editions Larousse.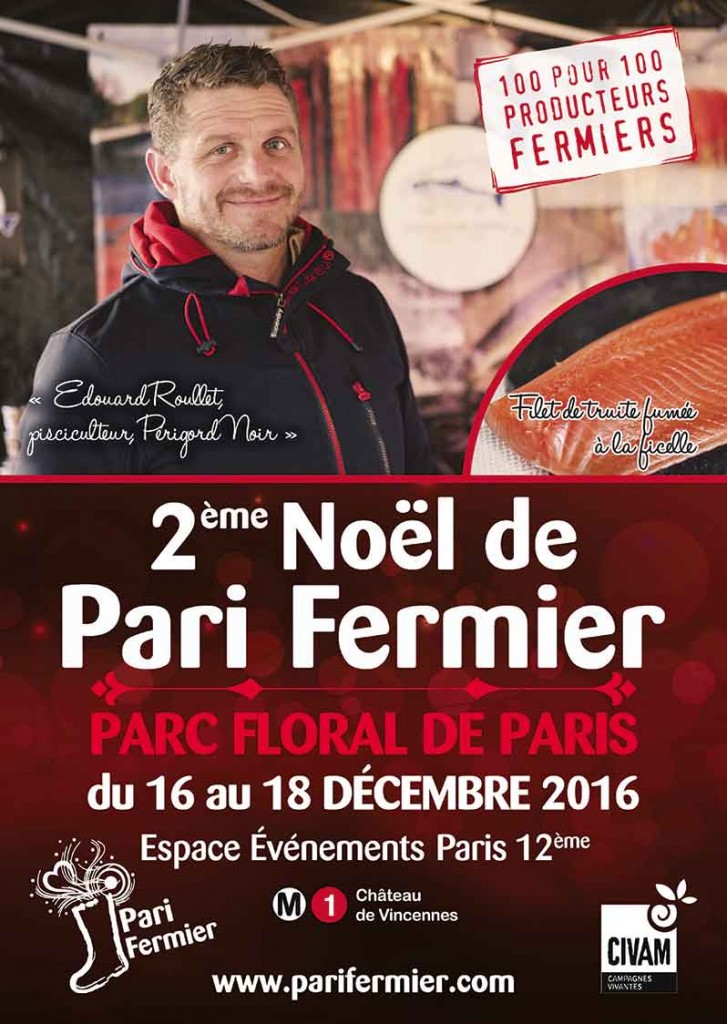 © Alix Marnat / Printer
Parc Floral de Paris
118, route de la Pyramide
75012 Paris
France
Tel.: + 33 (0) 1 49 57 24 84
Metro: Château de Vincennes (line 1).