Salon Naturally: the inescapable meeting of the eco-citizens
---
From Friday, June 9th till Monday, June 12th, 2017, the Salon Naturally (Show Naturally) celebrates 15 years of existence. Every year, dozens of exhibitors from diverse business sectors (health, cosmetics, edition, food, jewellery, etc.) present their organic and eco-responsible products to the public. The Salon Naturally offers free workshops during four days of exhibition, conceived to explore the methods which ally well-being of the body and the spirit. Professionals thus host workshops on alternative therapies which are seducing more and more consumers, such as the ayurvedic medicine (care, martial arts and yoga), sophrology (which aims at reaching the balance between emotions, thoughts and behaviour) and the various techniques of meditation and relaxation. Naturally also organizes conferences held by the most eminent specialists regarding nutrition and health, such as Edith de Wouters, master-practitioner in dynamic sophrology or Olivier Raurich, author of 3 books, scientist and experimented teacher of meditation. This event not to be missed is held at the Parc des Expositions de la Porte de Versailles.
15th edition of the Salon Naturally (website in French), from June 9th to June 12th, 2017.
Open from Friday, June 9th to Sunday, June 11th, 2017 from 10:30a.m. to 7p.m.
On Monday, June 12th, 2017 from 10:30a.m. to 6p.m.
Free entrance with invitation (to download on the website of the salon).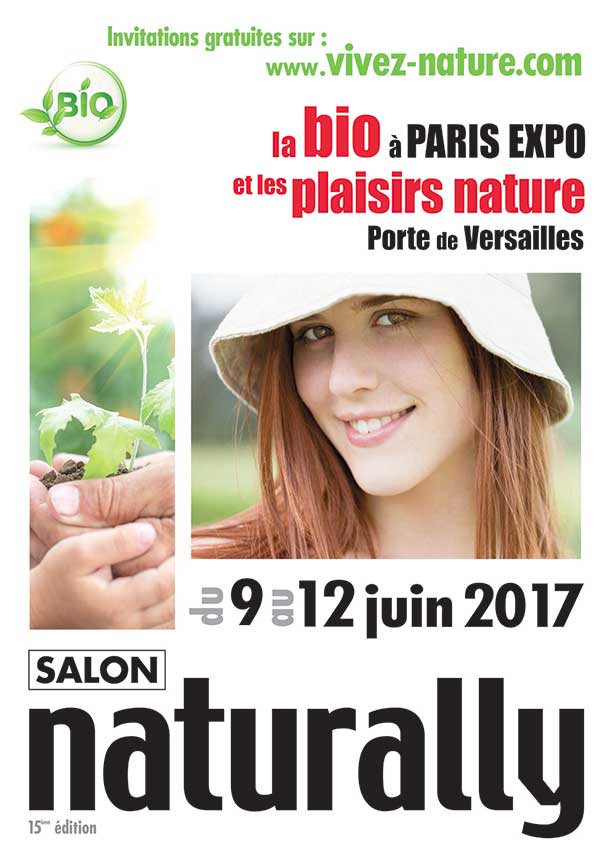 © Régis Sauvanet
Parc des Expositions de la Porte de Versailles
1, place de la Porte de Versailles
75015 Paris
France
Tel: +33 (0)1 40 68 22 22
Metro: Porte de Versailles (line 12).