La Nef est à vous: visit the Grand Palais for free in June!
---
On the 9th,10th, 16th, and 17th of June 2018, the Grand Palais will launch "La Nef est à vous" ("The Nave is yours") operation. For two weekends, the monument will open its doors and reveal all the secrets of its nave, free of charge. Architecture lovers or simple onlookers will be able to stroll freely in the 13 500 sq. m of the site. To discover the history of the largest glass roof in Europe, lecturers from the Réunion des musées nationaux - Grand Palais will also organise guided tours. Even more original, the visites "déguidées" ("un-guided tours") led by Bertrand Bossard and Solal Bouloudnine and created in 2011 will be more unusual and creative. After this walk in one of the most iconic monuments in Paris, you can visit one of the many exhibitions featured in the capital, particularly near the Green Hotels Paris, the Eiffel Trocadéro and the Gavarni. Just take your pick!
La Nef est à vous, on the 9th,10th, 16th, and 17th of June 2018.
Open from 2p.m. to 7p.m.
Free entrance.
Reservations for guided and "un-guided" tours on the Grand Palais website. €1 booking fee is required.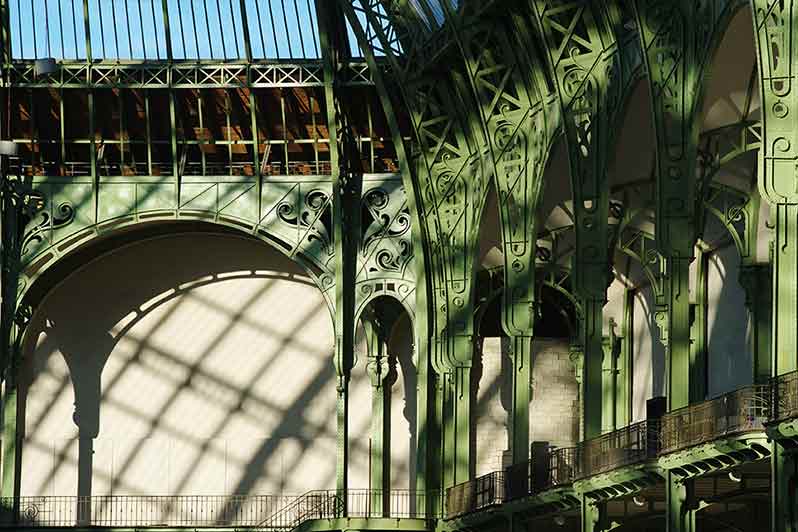 Nef close-up © Collection Rmn-Grand Palais, Mirco Magliocca
Grand Palais
3, avenue du Général Eisenhower
75008 Paris
France
Tel: +33 (0)1 44 13 17 17
Metro: Champs-Elysées-Clemenceau (lines 1 and 13) or Franklin D. Roosevelt (lines 1 and 9).