Look up, yards and vegetable patches take over the roofs of Paris!
---
In order to follow the example of the New Yorkers, Paris gives itself a biodiversity plan which consist in creating seven hectares of vegetated roofs by 2020. It is one of the first European cities to take the experience. Discovery.
Making tomatoes grow under the Parisian sky, it is possible!
You are aware that more than half of the population in the world is concentrated in the cities, and this tendency will obviously be led to amplify in the years to come. A question is then to be asked, how to feed the urban population with fresh products? This solution to install green ways over our heads is an alternative to our usual consummation modes, while creating sustainable and ecological vegetable patches right in the heart of the cities. The association Vegetable gardens on the roofs began to block off the rooftop of the engeneer's school AgroParisTech in the 5th arrondissement, and the results are quite encouraging! You have the possibility to take a look.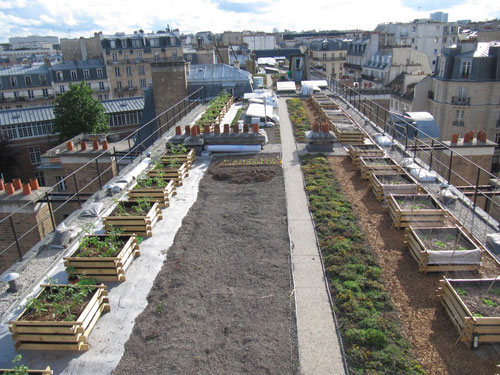 Photo credit: Jardinons-ensemble.org
AgroParisTech
16, rue Claude Bernard
75005 Paris
France
T.:+ 33 (0)1 44 08 16 61
Subway station: Censier Daubenton (L.7).
The eco-roofs, yards with several virtues
The capital counts some high yards. Among them, there is the one that is over the Vignoles gym, in the area of Charonne. This 600m2 space is like an UFO figure among the other green ways in Paris. Just as the eco-roof that serve as a vegetated hat to Paris's Farm in the Bois de Vincennes, this wild plant carpet that participate to the reduction of CO2 emissions, favor the production of oxygen and increase the humidity rate during summer seasons.

Photo credit: François Cano / L'Express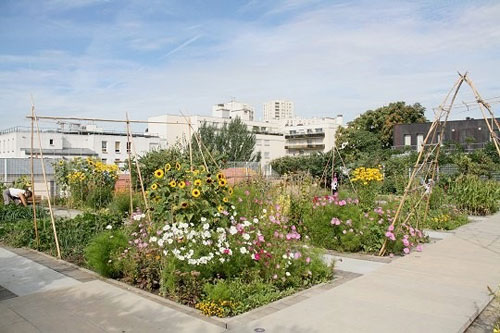 Photo credit: François Cano / L'Express
Vignoles Gym
83-91, rue des Haies
75020 Paris
France
T.: +33 (0)1 55 25 28 20
Subway station: Maraîchers or Buzenval (Ligne 9).
Open on Tuesday and Thursday from 9.30am to 12am, and on Wednesday and Friday from 2pm to 5.30pm.
Paris Farm
Route du Pesage - Bois de Vincennes
75012 Paris
France
T.: +33 (0)1 71 28 50 56
Open to public on Saturday and Sunday from 1.30pm to 5pm.
Free entry.