Aroma-Zone launches 14 Free nail polishes
---
Last January, we introduced you to the D.I.Y. vegan and organic nail polishes from Aroma-Zone. Today, we're interested in their new 14 Free nail polishes.
Vegan 14 Free nail polishes
Available since July 4th, 2017, they're made of 100% plant pigments, and are also 85% organic. In addition, these nail polishes are made in France. The logo 14 Free indicates that they are designed without 14 of the main allergens and currently known chemicals. Thus, Aroma-Zone nail polishes don't contain any toluene, styrene, rosin, synthetic camphor, xylene, formaldehyde, paraben, nickel, phthalates, animal-derived colouring agents, of synthesis or minerals, solar filters and formaldehyde resin. As of now, the range only has three colours (Rouge passion, Bordeaux chic and Fushia glamour), as well as a Top coat Brillance (Shining Top coat). These shades are created by means of extracts of elderberries, sweet potatoes and red radish. These three vegetables are particularly rich in pigments, called anthocyanins. These environment-friendly and healthy nail polishes are available in the Aroma-Zone shop of the 6th arrondissement, or on the website of the brand.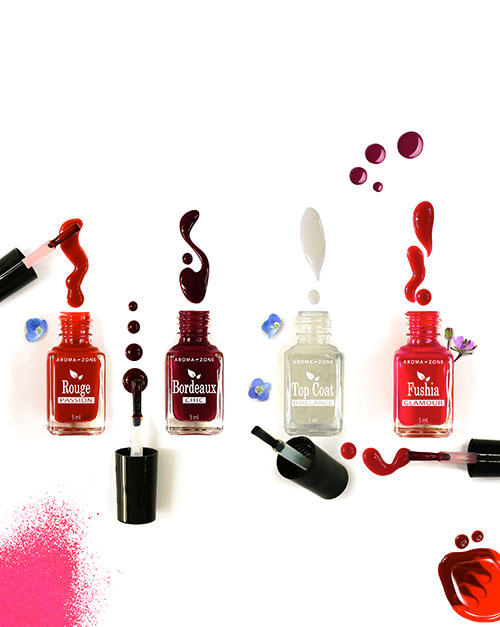 © Aroma-Zone
Nail polishes (5 ml bottle): €2.20 / Top coat (5 ml bottle): €1.70.
The shop is continuously open from Tuesday to Saturday, from 10a.m. to 8:30p.m.
Aroma-Zone (website in French)
25, rue de l'Ecole de Médecine
75006 Paris
France
Metro: Odéon (lines 4 and 10) or Saint-Michel (RER C).