The Vegan Box : The Vegetarians basket
---
It's difficult for vegetarians and vegans to find products matching their diet. From here, Noémie had the idea to create the Vegan Box concept. Once a month, she proposes vegetable origin food to everyone who decided to follow this diet. Her aim is to let everyone discover that veganism is not as difficult as we're tempted to think. Furthermore, the box also contains special recipes and a home-made sweet.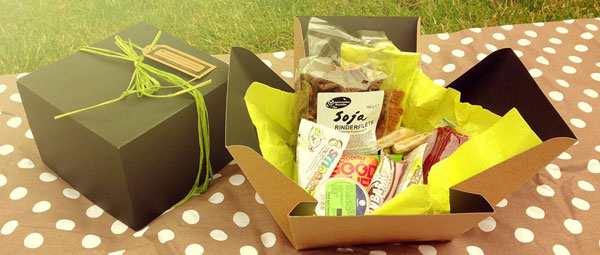 A gift each month
You only have to order it to receive the month Vegan Box in your mailbox. Besides making them discover new food, Noémie also offers subscribers a surprise gift, often related to ecology. For instance, the August Vegan Box contained reusable wipes which are a good replacement for cotton use.  Aesthetic and less polluting, they allow to apply cares, to remove make-up and even disinfect wounds. Will you adopt the Vegan Box ?
Vegan Box per unit : 20 €.
3 months subscription : 60 €.
6 months subscription : 120 €.
To subscribe, check out the Vegan Box website.