Vivez Nature fair: the 1st 2018 meeting dedicated to well-being
---
The Vivez Nature fair will be back for its 48th edition, from the 26th till the 29th of January 2018, at the Grande Halle de la Villette in Paris. Lovers of healthy organic products will have the chance to meet 150 exhibitors. This edition will also offer a rich selection of workshops and free conferences, to learn more about themes related to well-being. Among them, "Pratiquer l'auto-hypnose" ("Practise auto-hypnosis") given by the therapist Jean-Louis Abrassart, the meeting "Prévenir et guérir le diabète de type 2" ("Prevent and cure type 2 diabetes") with the nutritionist Raphaël Perez, or even "Les alternatives naturelles aux médicaments" ("The natural alternatives to medicines"), a forum led by the pharmacist-naturopath Florence Raynaud. Participating to the Vivez Nature fair will be the opportunity to meet passionate and committed professionals who work hard to protect the environment, a cause that is dear to the Green Hotels Paris, the Eiffel Trocadéro and the Gavarni.
Vivez Nature (website in French), from January 26th to January 29th, 2018.
Open from Friday January 26th to Sunday January 28th ,2018, from 10:30a.m. to 7:30p.m., and on Monday January 29th,2018 de 10:30a.m. to 6p.m.
Free invitation to download on the website.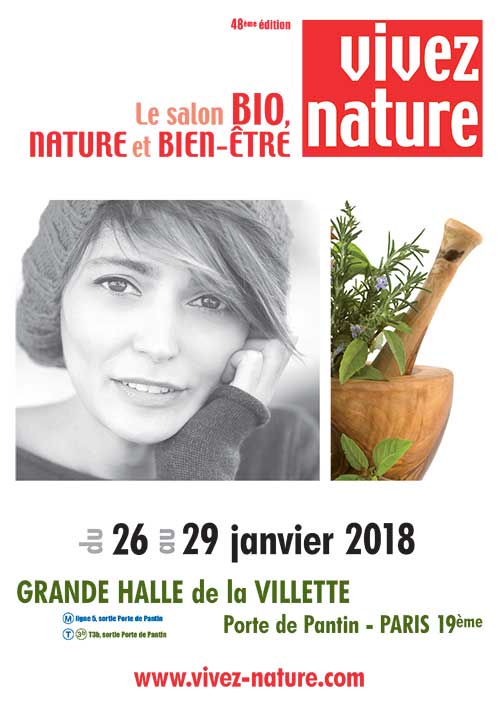 © Spas Organisation
Grande Halle De La Villette
211, avenue Jean Jaurès
75019 Paris
France
Tel: +33 (0)1 40 03 75 75
Metro: Porte de Pantin (line 5).