The Puces du Design become the Modern & Vintage Design Fair of Paris!
---
For their 38th edition held from the 5th to the 8th of April, 2018, the Puces du Design changed their name and became the "Modern & Vintage Design Fair Paris". Created in 1999 by Fabien Bonillo, this event is the unmissable meeting point of contemporary design aficionados.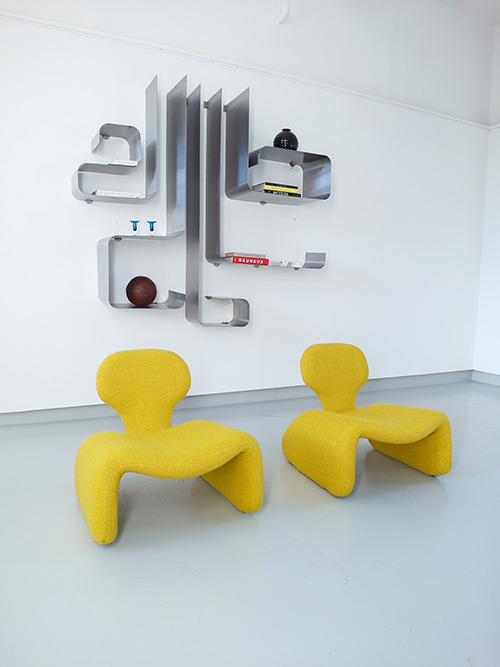 DJINN MOURGUE © VISA-VU
Olivier Mourgue: the fair's guest of honour
This year, the festival pays tribute to the French designer Olivier Mourgue (1939-), mainly known for creating in 1965, the Djinn chairs, a collection of futuristic and very light seats. Those models made of polyurethane foam were used in Stanley Kubrick's movie "2001: A Space Odyssey" (1968), which celebrates this year its 50th anniversary. In partnership with the Galerie du 20e Siècle of Poitiers, and the French antique dealer Jean-Yves Allemand, the Design Fair Paris will display numerous works of Olivier Mourgue. Among them, the entire famous Djinn series, including fireside chairs, sofas, loungers, coffee tables, etc. The fair will also present some of the creator's lesser-known compositions, such as the Whist Airborne chairs (1964), or even the Montréal series (1967), designed by the artist for the French Pavillon of the Universal exhibition of 1967, held in Montréal, in Canada. It's the perfect opportunity to discover (or rediscover) some unique and revolutionary pieces of one of the 20th-century design pioneers, as well as many other young contemporary designers.
Modern & Vintage Design Fair Paris, from the 5th to the 8th of April, 2018.
Open on Thursday, April 5th, 2018 from 2p.m. to 10p.m., and from Friday 6th to Sunday 8th, 2018 from 10a.m. to 7p.m.
One-day ticket: €8 / Four-day ticket: €12.
Parc des Expositions – Porte de Versailles
1, place de la Porte de Versailles
75015 Paris
France
Tel: +33 (0)1 40 68 22 22
Metro: Porte de Versailles (line 12).