Rose Bunker: the concept-store specialised in upcycling
---
The concept-store Rose Bunker was created by two yard sale lovers and specialists of upcycling, technique which consists in transforming retrieved materials in useful and quality products. In their shop, we can find decorative, design and vintage objects created from recycled components, realized by French or international designers, all environmentally responsible. Rose Bunker offers a multitude of trendy products, like the unique Dutch recycled jar lamp, designed from a recycled jar of pickles, or a table in recycled oil cans made by the German brand Lockengelöt! As for the candles, the collections are surprising. Among them, the candles OpAArk 100% biodegradable and made in France which we had spoken to you on about our blog last May, with soya wax, and their wooden wicks. Other flagship product, the world-famous Freitag bag (which we mentioned on our blog in June, 2015), made from trucks tarpaulins fabric and used car seat belts. Even more original, the Werkhaus pencil jars, made in Germany, which are reconstituted wooden cars and "GreenPeace Energy" certified. All these surprising eco-responsible objects are sold in the Rose Bunker shop, as well as on its website.
Coffee table in recycled oil cans Lockengelöt: €320 / Freitag Lassie shoulder bag in truck tarpaulins: €190 / Recycled jar Lamp: €35 / Pencil jar Werkhaus: €17.50 / OpAArk candles: €14.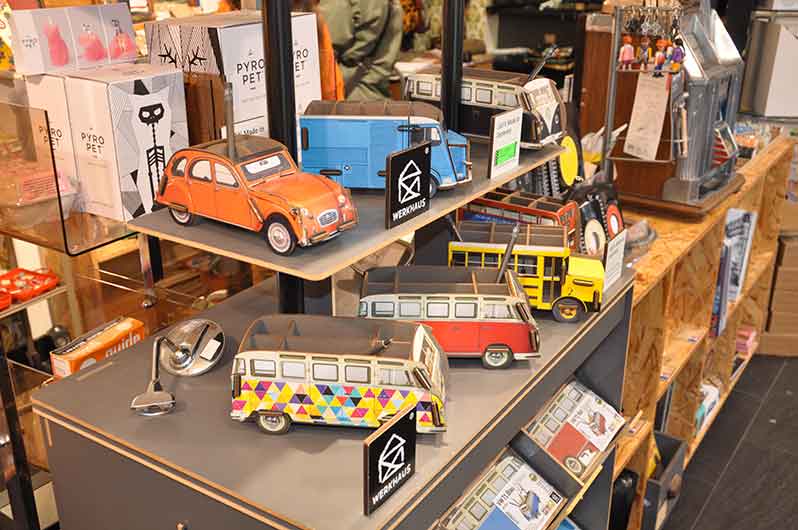 Werkhaus © rose-bunker
Rose Bunker (website in French)
10, rue Aristide Bruant
75018 Paris
France
Tel: +33 (0)1 42 57 90 62
Metro: Abbesses (line 12) and Blanche (line 2).