Le Grand Musée du Parfum: an olfactory adventure near the Green Hotels Paris
---
Don't panic! Even though lately, we were telling you about the national museum of the French Marine which will close for renovation at the end of March 2017, a brand-new Parisian museum is ready to welcome you. Le Grand Musée du Parfum opened in December 2016, on the Faubourg Saint-Honoré street, in the 8th arrondissement of Paris, and invites you to a wonderful olfactory adventure.
Discover the secrets of the perfume
The perfume has an important role in our history. It expresses a heritage and a life style which have never stopped evolving throughout history and the diverse influences that crossed the country. The Musée du Parfum wants to show to its visitors that the scents are both individual and universal, that they are numerous, almost countless, and can be found everywhere. This unique museum in Paris combines history, sciences and emotions, and was designed thanks to the contest of the greatest perfume experts. The visitor is invited to discover the history and virtues of perfumes from the Ancient Times to nowadays. The visit continues in a room dedicated to the "Art of the Perfumer", where we can learn the secrets of the fragrance composers. Then, a last room invites everyone to understand the art of perfumes, because we all have a special relationship with our perfume. What's more, this museum is just a few metro stations only from the Green Hotels Paris, the Eiffel Trocadéro and the Gavarni!
Open from Tuesday to Thursday, on Saturday and Sunday from 10:30a.m. to 7p.m., and on Friday from 10:30a.m. to 22p.m.
Closed on Monday.
Full rate: €14.50 / Concessions: €9.50 / Free for visitors under 6.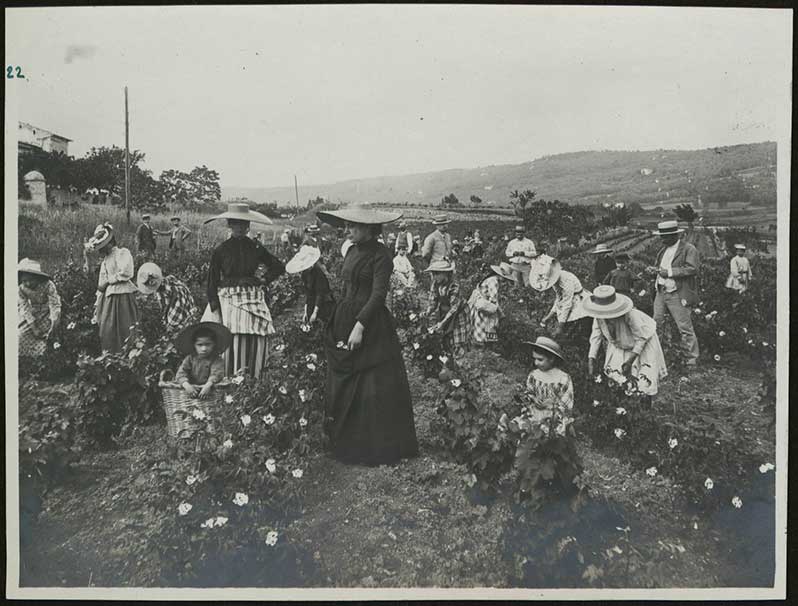 May rose picking
Photographic print ETABLISSEMENTS BRUNO-COURT
20th century (1st quarter), Grasse Papier
In. 04.537
© Musée International de la Parfumerie, Grasse – France
Le Grand Musée du Parfum
73, rue du Faubourg Saint-Honoré
75008 Paris
France
Tel.: +33 (0)1 42 65 25 44
Metro: Franklin D. Roosevelt (lines 1 and 9) and Miromesnil (lines 9 and 13).