Hédène: French Gourmet Honey
---
Behind the Hédène brand hide two passionate beekeepers, Cyril Marx and Alexis Ratouis, who studied at the apiary school in Paris' Jardin du Luxembourg. Together, they wanted to create a brand dedicated to French honey with intent to promote the riches of our national heritage. All of the honeys are concocted using wild flowers sourced from four corners of France which undergo a process of cold extraction. Twelve flavours are available, including rosemary, lavender, fir, linden, chestnut, heather, and acacia, all with their own specific qualities. For example, the chestnut honey is harvested in the Tarn valley, harbouring subtle woody notes and a coppery brown colouring. As for the fir honey, hailing from Jura, one can detect berry aromas and maple syrup within its deep colour. Finally, the rosemary honey, sourced from Languedoc Roussillon is distinguishable thanks to its light colour and balanced, botanical notes. These honeys can be enjoyed in hot drinks, as a side for cheese, or used in general cooking.
€12.90 for one 250g pot of honey.
All Hédène products are sold on the brand's website, as well as in numerous boutiques in the 16th arrondissement, including the Fromagerie Mozart.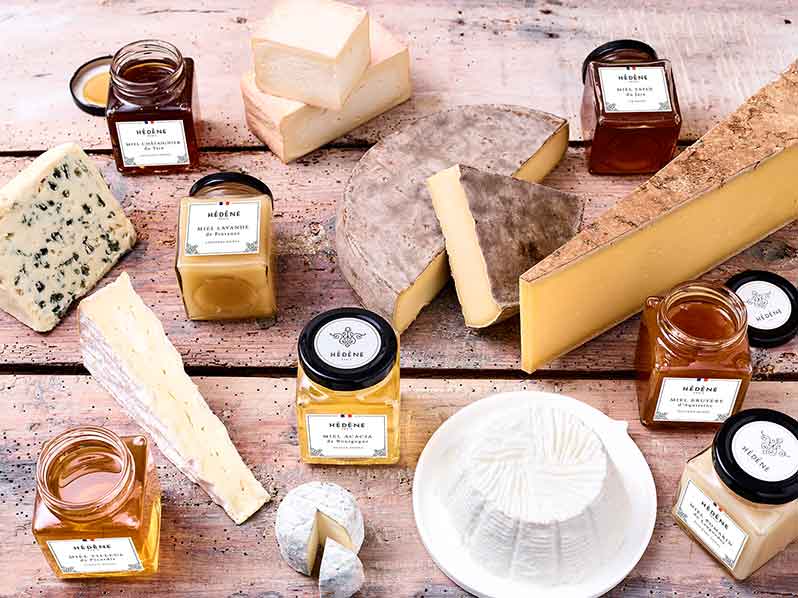 © Nicolas Lobbestaël / Stylisme : Sophie Bertrand
Fromagerie Mozart
48 bis, avenue Mozart
75016 Paris
France
Tel: +33 (0)1 42 88 24 56
Metro: Ranelagh (line 9).