Exhibition: Paintings from afar
---
Starting January 30th, 2018, and until January 6th, 2019, the musée du quai Branly-Jacques Chirac will be displaying approximately 200 paintings and graphic works of the period from the end of the 18th century to the middle of the 20th century. These creations offer a wide panorama of art history, with prints and drawings by Henri Matisse (1869-1954) and Paul Gauguin (1848-1903), of Tahiti, as well as portraits of American Indians by George Catlin (1796-1872). Creations of Emile Bernard (1868-1941), evoking the daily life of the inhabitants of Cairo will also be presented. This event, which is available just a few-minute walk away from the Eiffel Tower and the Green Hotels Paris, the Eiffel Trocadéro and the Gavarni, also provides a view on the political and colonial history between the West and the East. Until April 1st, 2018, the museum is hosting another retrospective, "Before the Incas". It is the opportunity to kill two birds with one stone and to visit both!
Exhibition "Paintings from afar. The collection of the musée du quai Branly-Jacques Chirac", from January 30th, 2018 to January 6th, 2019.
Open on Tuesday, Wednesday and Sunday from 11a.m. to 7p.m., and from Thursday to Saturday from 11a.m. to 9p.m.
Full fare: €10 / Concessions: €7.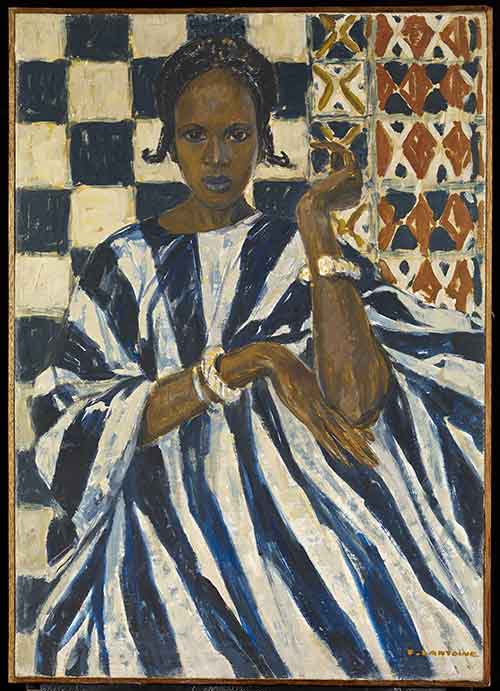 Duco Sangharé – Peuhl
Appointed Painter of the Fleet in 1922, Fernand Lantoine travelled to North Africa in the 1920s.
In 1936, he received the French West Africa award.
Fernand Lantoine, 1876-1956
1920s-1930s
Oil on canvas
86.8 x 62 x 2.1 cm, 2005 g
© musée du quai Branly - Jacques Chirac, photo Claude Germain
Musée du quai Branly–Jacques Chirac
37, quai Branly
75007 Paris
France
Tel: +33 (0) 1 56 61 70 00
Access: Pont de l'Alma (RER C).