Exhibition: Le pouvoir des fleurs
---
You're passionate about floral paint? Head to the museum of the romantic Life to discover the exhibition dedicated to Pierre-Joseph Redouté. Nicknamed the "Raphaël des Fleurs" (Raphaël of Flowers), he is one of the biggest representatives of floral paint. Over 250 works are exposed, paints, watercolours, but also art objects and vellums. All of them come from the biggest French public collections, from the Musée du Louvre to the musée des Beaux-Arts of Lyon (museum of Fine Arts), but also from Belgian museums. It is the ideal opportunity to admire the works of this botanist painter, friend of the great naturalists of his time, also painter of the sovereigns, the empress Joséphine, and of the queen Marie Amélie. This important retrospective transports the curious ones from the Old Regime to the July Monarchy, to the discovery of the beauty of flora, captured by Pierre-Joseph Redouté's talent.
Exhibition "Le pouvoir des fleurs, Pierre-Joseph Redouté (1759-1840)", from April 26th to October 1st, 2017.
Open from Tuesday to Sunday from 10a.m. to 6p.m.
Closed on Monday.
Full rate: €8 / Concessions: €6 / Free for those under 18.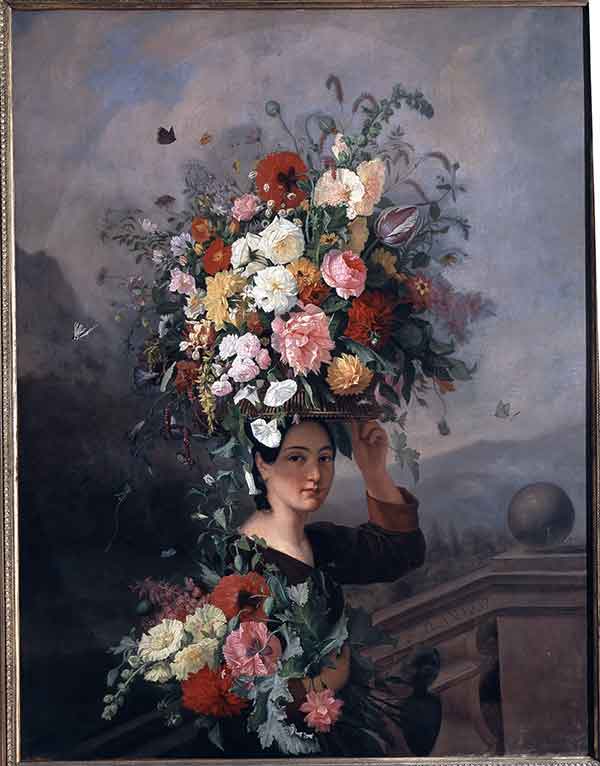 Saint- Jean Simon (1808-1860), La Jardinière 1837, Lyon, museum of Fine Arts of Lyon, image © Lyon MBA – Photo Alain Basset
Museum of the romantic life
Hotel Scheffer-Renan
16, rue Chaptal
75009 Paris
France
Tel: +33 (0)1 55 31 95 67
Metro: Pigalle (lines 2 and 12).