Exhibition: La biodiversité, ça se cultive!
---
Since it's a daily commitment for the professionals of the Jardin des Plantes, an exhibition is dedicated to the preservation of biodiversity. Until February 4th, 2018, the retrospective "La biodiversité, ça se cultive!" (Biodiversity, it's a culture!) presents the multiple works created every day by the gardeners of the green space. Indeed, for several years, they suspended the use of herbicides and other insecticides, for the benefit of respectful techniques of the flora and fauna: harrowing, weeding and manual reaping etc. Thus, the plant collections of the garden bloom alongside their natural hosts, whether they are insects, lizards, or even hedgehogs. It is also the opportunity to discover an unknown wild life at the heart of Paris. The images are available on the grilles de l'Ecole de Botanique (railings of the School of Botany), in the central aisle of the location.
Exhibition "La biodiversité, ça se cultive!", from May 19th to February 4th, 2018.
Open every day from 7:30a.m. to 8p.m.
Free.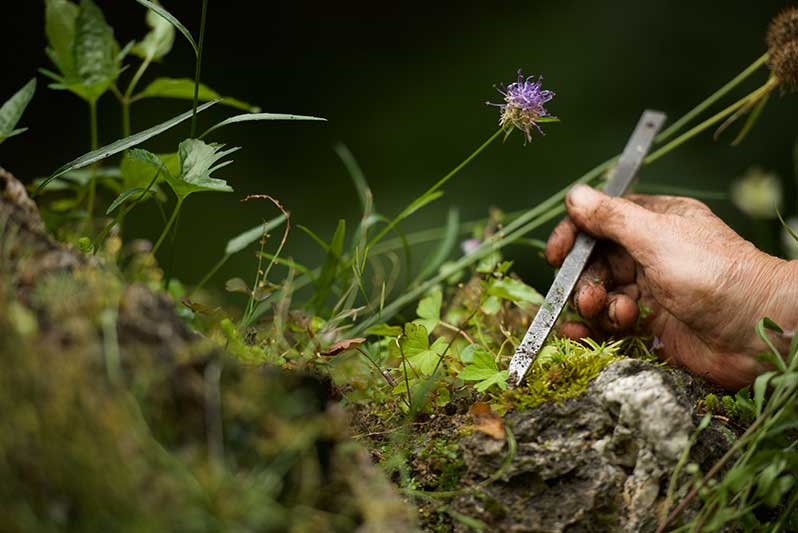 Manuel weeding at the Jardin Alpin, july 2016
© Agnès Iatzoura - MNHN
The manual weeding symbolizes the work in the Jardin Alpin: 90% of their time, the gardeners are with their "worksheet",
a simple label holder of metal, diverted from its original use.
Like a scalpel, this small tool is essential for them to remove the roots of the unwanted plants:
a work of an incredible precision which requires a sharp sense of observation,
an imperturbable calm and a great knowledge of the 2 500 species referenced in this Garden!
Jardin des Plantes (website in French)
2, rue Buffon
75005 Paris
France
Tel: +33 (0)1 40 79 56 01
Metro: Gare d'Austerlitz (lines 5, 10, and RER C).