Exhibition: Hermès à tire-d'aile – Les mondes de Leïla Menchari
---
The Grand Palais launches the exhibition "Hermès à tire-d'aile – Les mondes de Leïla Menchari" ("Hurriedly Hermès – Leïla Menrachi's worlds") from 8th November to 3rd December, 2017, not far from the Green Hotels Paris, the Eiffel Trocadéro and the Gavarni. This retrospective revives Leïla Menchari's settings, who imagined, drawn, and realized the Hermès settings and shop windows while directing the Comité couleurs de soie between 1978 and 2013. Even if the materials are the guideline of this exhibition, each of the eight pictures complete the journey by telling a story. Indeed, eight sketches have been stage designed by Nathalie Crinière allowing the visitors to travel in Leïla Menchari's extraordinary and genuine universes. Given that the event is free, we take this opportunity to discover the exhibition dedicated to the photographer Irving Penn (1917-2009), that is held until 29th January, 2018 at the Grand Palais.
Exhibition "Hermès à tire-d'aile – Les mondes de Leïla Menchari", from 8th November, 2017 to 3rd December, 2017.
Open every day from 10a.m. to 8p.m.
Nocturnal on Friday and Saturday until 10p.m.
Free entry.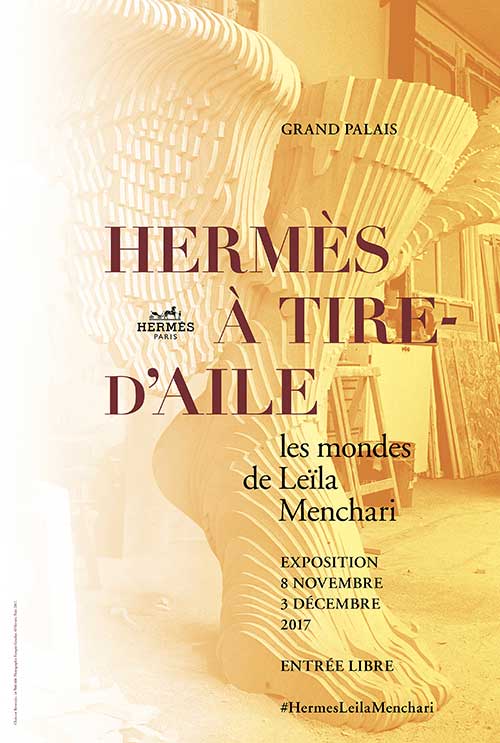 Christian Renonciat, Le Pied ailé.
Photograph: François Goudier.
© Hermès, Paris 2017.
Grand Palais
3, avenue du Général Eisenhower
75008 Paris
France
Tel: +33 (0)1 44 13 17 17
Metro: Champs-Elysées- Clemenceau (lines 1 and 13) or Franklin Roosevelt (lines 1 and 9).