En attendant les barbares at the Comédie française
---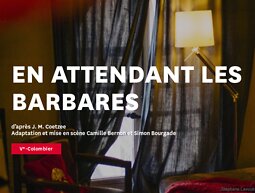 En attendant les barbares at the Comédie française, Waiting for the Barbarians
Based on J. M. Coetzee
Adapted and directed by Camille Bernon et Simon Bourgade
Duration : 2h05
Dates : from October 28th to November 28th, 2021
Métro : M9  and M1 (or M7)
By bicycle : 16 minutes
Nobel prize in literature in2003, J.M.Coetzee invents, in this political fable, a world which could be ours.
While a small border city is beset by rumours of a barbarian invasion, the Central Empire mandates one of its political police colonels to capture and torture some of them in order to obtain information.
Confronted with the increase of the army raids and with the insidious rise of a totalitarian regime, the Magistrate of the cityis forced to take a stand, but his valuesprove to be fruitless in the face of the inhabitants'growing brutality. The Magistrate condemned by his fellow citizens for « collusion with the enemy », is threatened to undergo the same fate as the barbarians. After having directed « Change Me », which mingled an american news item with the myth of Ovid's Iphis, Camille Bernon and Simon Bourgade, who constitute a representative duo of the new generation, have adaptedJ.M.Coetzee's novel and its bare uncompromising language. The framework of this dystopia gives them the opportunity to dissect the « mecanisms of fear in our society's behaviour, our own relation of fascination and disgust as regards our own barbarians, or strange foreigners, relation which reveals, first of all, our alienation and our spiritual poverty ».
Concerned with the rise of xenophobia and nationalism in today's european context, their theatre opposes the violence which threatens our humanity in the name of the ideal each one of us has of our civilisation.