By Jardin: Organic, gourmet and made in France juices
---
Who ever thought that fruits, vegetables and aromatic herbs could hardly be mixed together? Certainly not Benoît Jardin, founder of By Jardin, a brand specialized in the preparation and sale of 100 % organic juices made in France and with no add-ons.
From the organic veggie juice to the detox cure
The heart of By Jardin means a nature promoted by processes respectful of the environment and of the consumer.  Fruits, vegetables and aromatic herbs are cultivated preferably in the vegetable garden of Perche (18), or by organic French farmers if necessary. At first, the juices are cold-pressed before being transported in recycling glass bottles. Thus, these seasonal products, non-pasteurized and with no add-ons (no artificial colourings and preservatives in particular) are guaranteed to be perfectly traceable and are to be enjoy all day long. Thanks to juices like "Suzanne", made of beet, lemon, Royal Gala apple and carrot, "Clélia" with cucumber, basil, Granny Smith apple and lemon, or "Germain" with cabbage, lemon and apple, we give ourselves a 100 % gourmet break. According to the season, By Jardin offers 7 to 10 blends of veggies and fruits.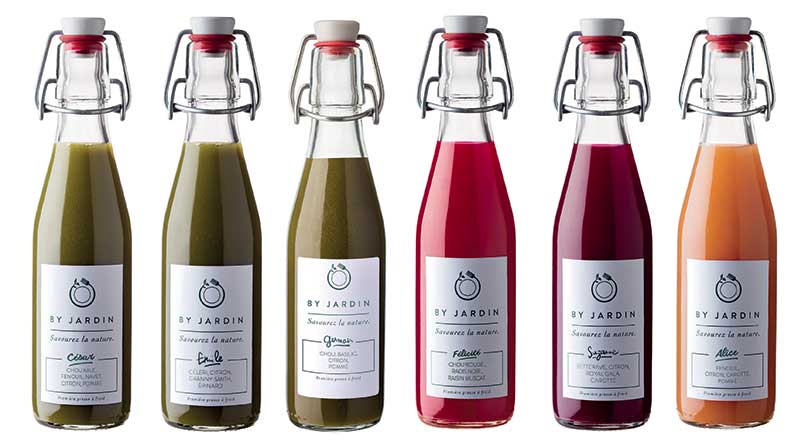 © By Jardin
What's more: By Jardin also presents detox cures, "tendre" and "intense", which give you a perfect balance between vegetables, aromatic herbs and fruits.
Juice "assemblage" ("blend" juices): €12.60 / Detox cure: €60.
The products are sold online, on the website of Byjardin.fr (website in French) and at La Grande Épicerie de Paris.
La Grande Épicerie de Paris
38, rue de Sèvres
75007
France
Tel.: +33 (0)1 44 39 81 00
Metro: Sèvres-Babylone (lines 10 and 12).