Authentic: organic juices, vegan and gluten-free crisps
---
Created by the Lyonnaise start-up Natura France, the organic French brand Authentic creates organic certified drinks and snacks. Their aim is to help people adopt healthier eating habits.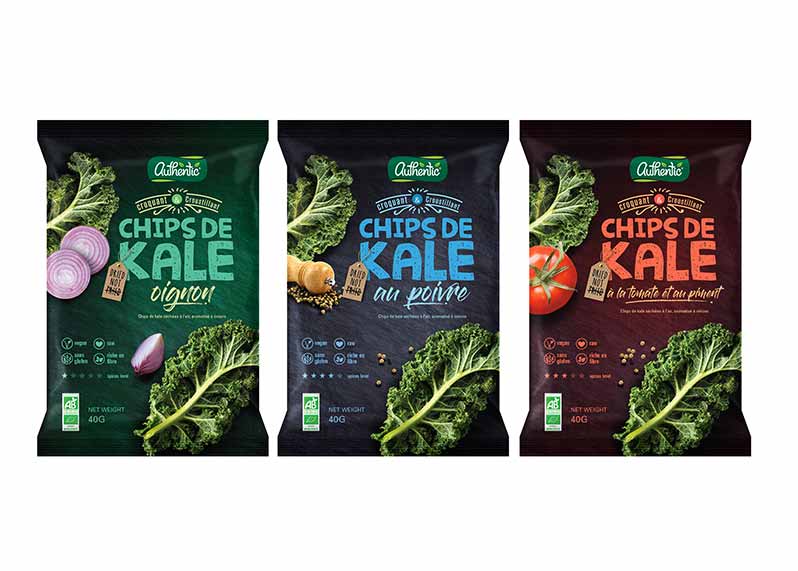 Range of Kale Crisps © Authentic
Authentic revolutionises the organic industry
The brand makes natural organic fruit and vegetable-based recipes without any added sugar, conservatives or additives. But that's not all, it innovates with original and delicious combinations such as their lacto-fermented organic juices (natural fermentation which helps eliminate potentially pathogenic bacteria) with beet and passion fruit, apple-cucumber or even orange-carrot-mango. The other flagship product of this new organic company: the organic, vegan and gluten-free crisps with kale, the trendy green cabbage naturally rich in nutrients and antioxidants. Just like for its juices, Authentic imagines original recipes: kale with tomato and chilli, onion or pepper. Contrary to classic crisps which are usually fried, Authentic crisps are raw and air-dried!
Authentic Organic Fruits & Vegetable Drinks: €5.30 per litre / Organic Kale crisps: €3.50.
Authentic products are sold in stores and supermarkets, including Franprix and Monoprix in Paris.
Franprix (website in French)
19-21, avenue Paul Doumer
75016 Paris
France
Metro: Trocadéro (lines 6 and 9).
Open from Monday to Saturday from 7:30a.m. to 9p.m. and on Sunday from 8:30a.m. to 1p.m.  



Apple Cucumber © Authentic