The 2nd edition of the Jardins Ouverts in Ile-de-France
---
After a successful first edition, the "Jardins Ouverts en Ile-de-France" event returns from the 29th to the 30th September, 2018, for a second edition dedicated to vegetable gardens. On the programme for this event: the rediscovery of the gardens and vegetable gardens of the Ile-de-France region.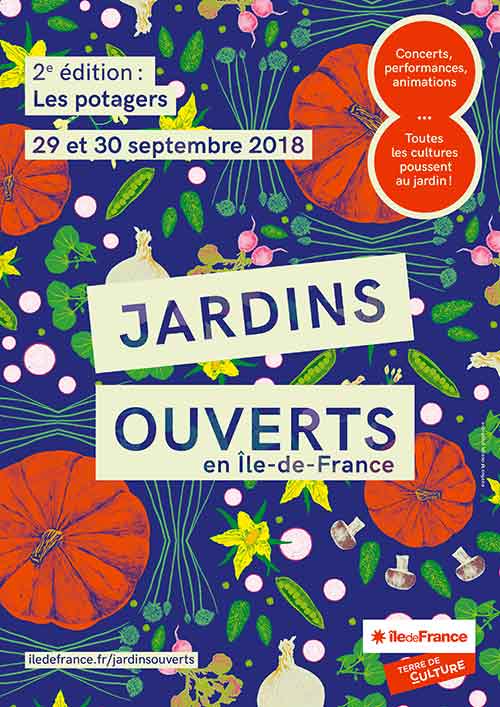 Poster Jardins Ouverts 2018 © Duofluo
Jardins Ouverts: two days devoted to biodiversity
This year, the event highlights the diversity of local productions. From watercress from Méréville (91) to peach from Montreuil (93), from peppermint from Milly-la-Forêt (91) to champignon de Paris (75), visitors will discover the richness of Ile-de-France cultures. As a reminder, Ile-de-France is a land of culture with 78% of wooded and agricultural land. It is therefore possible to eat locally in Ile-de-France.
Jardins Ouverts: from heritage gardens to urban farms
Jardins Ouverts in Ile-de-France also offers access to exceptional sites, which over a weekend offer gastronomic and cultural activities (dance, music, circus, literature, theatre). This year, the Musée-jardin Bourdelle (77) and the property Caillebotte (91) are entering alongside the Potager du Roi (78), the vegetable and fruit garden of the Château de la Roche-Guyon (95) and the GoodPlanet Foundation in Paris. Heritage gardens, shared, private, educational, workers, collective and urban farms (or rooftop gardens) will share their secrets!

77 - Egreville - Musée Bourdelle © Musée-jardin Bourdelle
"Jardins Ouverts en Ile-de-France", from 29th to 30th September, 2018.
Free events (for the most part).
For more information on the opening hours of the participating locations and prices, see the Jardins Ouverts website (only available in French).
Musée-Jardin départemental Bourdelle (website only available in French)
1, rue Dufet-Bourdelle
Hameau Le Coudray
77620 Egreville
Tel: +33 (0)1 64 78 50 90