15th edition of the Nuit Blanche
---
The Nuit Blanche makes its major comeback on Saturday October 1st, 2016, from the Ile-de-la-Cité to Issy-les-Moulineaux (in the 92 department). For this 15th edition, these are 40 artistic projects which await curious people—placed in the open-air—all along the Seine. This year, the event takes us in a love quest—Poliphilo's—the hero of an Italian novel dating back from the 15th century entitled 'Le songe de Poliphile et Polia'.
Near the Green Hotels Paris
Just near our two hotels, the Eiffel Trocadéro and the Gavarni, the esplanade of the Palais de Tokyo hosts the installation 'Inland Sea' by Brazilian artist Rodrigo Braga. It's next to the pond that separates the Palais de Tokyo with the musée d'Art moderne de la Ville de Paris that visitors are invited to discover an isolated sea from which emerge big rocks. To shape them, the creator used a stone coming from a quarry in the Parisian region, having served to build most of the capital's Haussman period buildings. This work is actually a nod to the geological past of Paris when the city was covered by prehistoric sea more than 45 million years ago.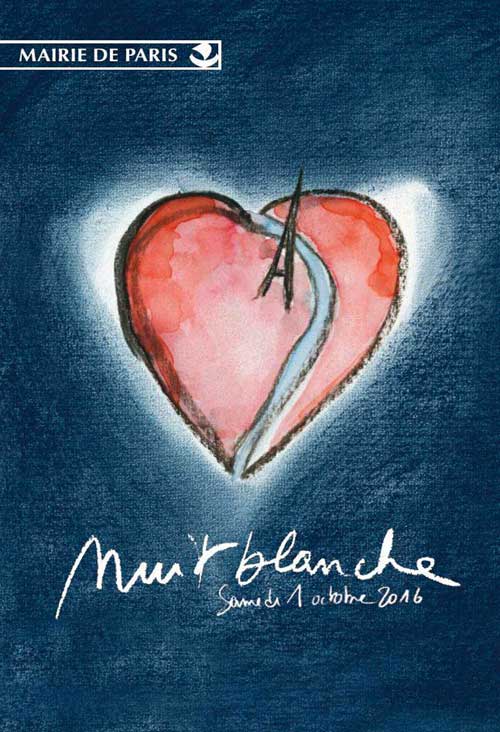 © Fabrice Hyber
On the Pont des Arts
The mythical Pont des Arts is sublimated by the installation 'Live Stream' by Oliver Beer. The British artist indeed placed there green LED lights which provide a halo of fluorescent light on the Seine. To create them and reveal the secret life of the river, he turned towards green lights used by the Thai fishermen in order to attract fishes as well as squids. Sound recordings complement the work between underwater life, the lapping water and echos of motorised watercrafts.
Many other surprises can be admired throughout the night for young and old alike!
15th edition of the Nuit Blanche (in French), on Saturday October 1st, 2016.
Free.
From 7pm to 7am.
Esplanade du Palais de Tokyo
20, avenue de New York
75116 Paris
France
Metro: Trocadéro (lines 6 and 9) or Iéna (line 9).
Pont des Arts
75006 Paris
France
Metro: Pont Neuf (line 7) or Louvre-Rivoli (line 1).