10th edition of Esprit Jardin at Versailles
---
From the 5th to the 6th of May, the city of Versailles is welcoming the 10th edition of Esprit Jardin, an event dedicated to horticulture and garden design. This festival will be held around the Potager du Roi, the Cathédrale Saint-Louis and the rue d'Anjou and the rue du Maréchal Joffre, in a pedestrian area.
Esprit Jardin: the celebration of nature
This year, Esprit Jardin's theme is: "L'art au jardin" ("Art in the garden"). It will host 80 exhibitors, including professional florists, landscapers and nurserymen, whose purpose is to show that flora is a real source of inspiration for art. Moreover, the gardeners of the City of Versailles designed for the occasion a 300 sq m ephemeral eco-friendly garden, a beautiful creation to discover with your family. Indeed, Esprit Jardin is meant for adults as well as children, with workshops organised for all ages and an educational farm. In addition, it's possible to attend a free guided tour of the Potager du Roi, or to participate in screening-debates of the "Zéro phyto, 100 % bio" documentary released in 2017 by Guillaume Bodin. This movie raises the subject of organic canteens and pesticide-free towns such as that of the Sun King (Louis XIV). So why not kill two birds with one stone and go visit Esprit Jardin as well as the stunning Château de Versailles?
10th edition of Esprit Jardin – L'art au jardin (website only available in French), Saturday 5th and Sunday 6th of May, 2018.
Open from 10a.m. to 7p.m.
Free entrance.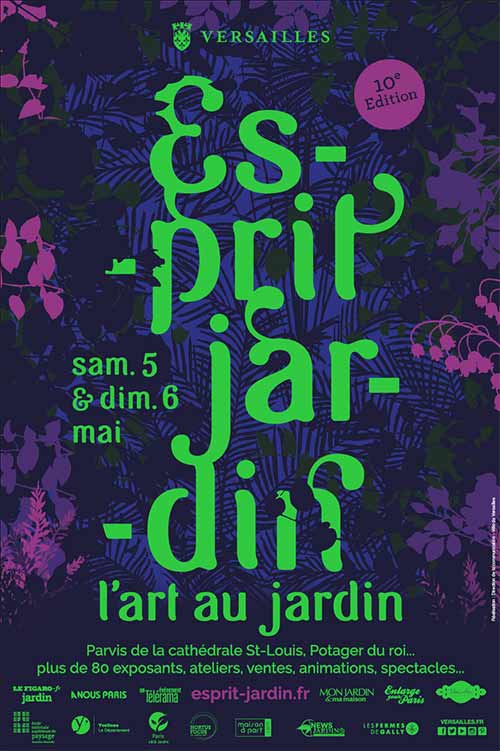 Creation of the communication department © Ville de Versailles
Potager du Roi (website only available in French)
Parvis de la Cathédrale Saint-Louis, Carré à l'avoine
Rue du Maréchal Joffre and rue d'Anjou
78000 Versailles
France
Access: Gares Versailles Château Rive Gauche (RER C), or Versailles Rive Droite (Transilien) and Versailles Chantiers (Transilien and RER C).