Peau d'âne: Charles Perrault's fairy story revisited at Chantilly
---
During the Christmas holidays, why not take your children to discover a Christmas fairy story? Head for the Domaine de Chantilly, only 25 minutes from Paris, where the Great Stables of Chantilly are hosting an equestrian show for the holidays. This year, it's Charles Perrault's "Peau d'âne " which is interpreted by 7 riders, 2 acrobats and 23 horses and ponies; not forgetting a donkey and some barnyard animals!
Once upon a time...
"Peau d'âne" tells the story of a benevolent king, madly in love with his beautiful wife, and wealthy, thanks to his donkey which brings him many riches. Before dying of a serious illness, his wife makes him promise to find another wife even more beautiful than she is. Only the king's daughter is more beautiful than the queen. So the king asks her to marry him. To escape this nonsensical marriage, the young princess is helped to flee the kingdom by her godmother, the Lilac Fairy (played by trapeze artist Laure Sinic). This poetic tale has been revisited by Virginie Bienaimé, with sumptuous costumes by Monika Mucha and the Compagnie du Costume, and fairy tale lighting by Thomas Jacquemart.
"Peau d'âne", from 26th November 2016 to 2nd January 2017.
Show at 2:30p.m. or 4:30p.m. according to dates.
Full price: €21 / Concessions (3-17): €17,50 / Free under 3.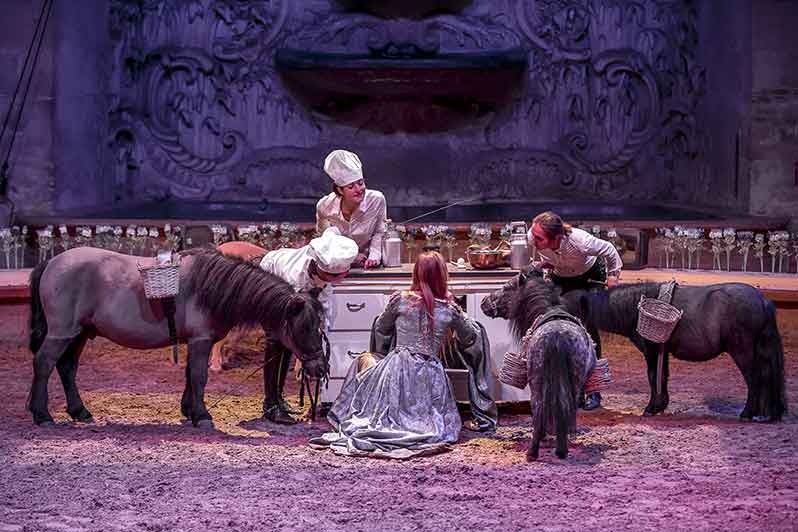 © RBpresse
Domaine de Chantilly
Rue du Connétable
60500 Chantilly
France
Tel.: +33 (0)3 44 27 31 80
Access: with main line train from the gare du Nord, allow 25 minutes / 45 minutes in RER D / Stop: Chantilly-Gouvieux.